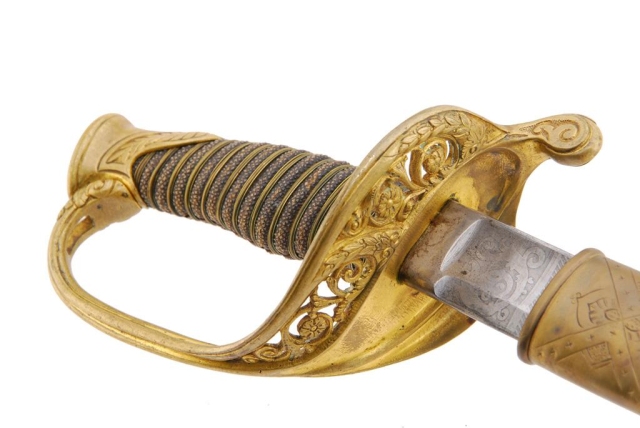 ARIZONA SWORDS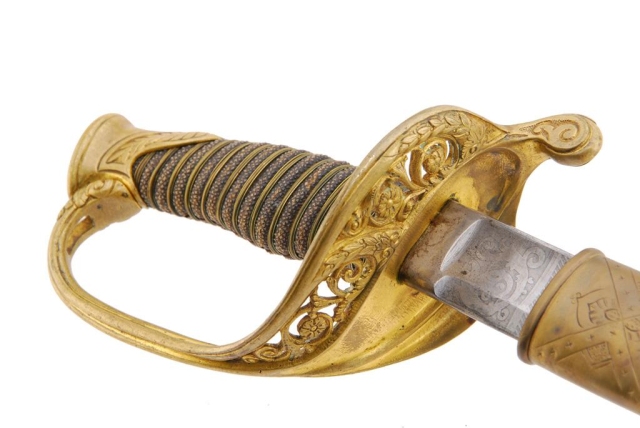 Union Blades
CLICK BUTTONS BELOW TO SEE OTHER AVAILABLE ITEMS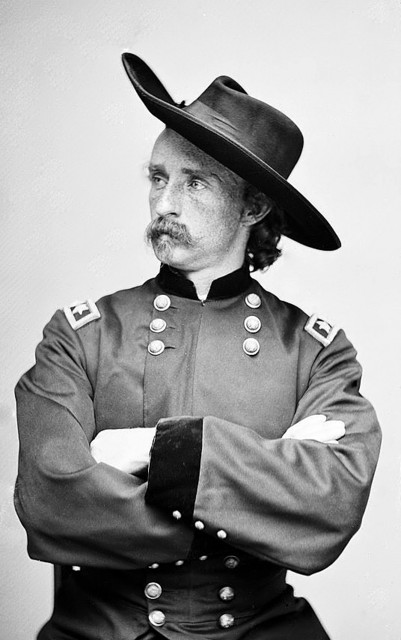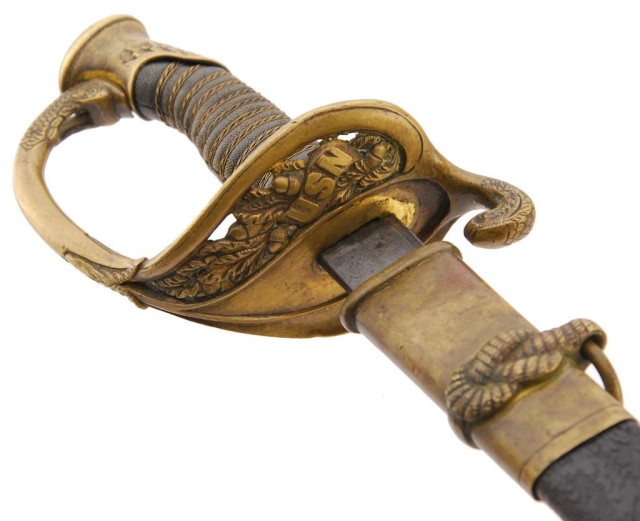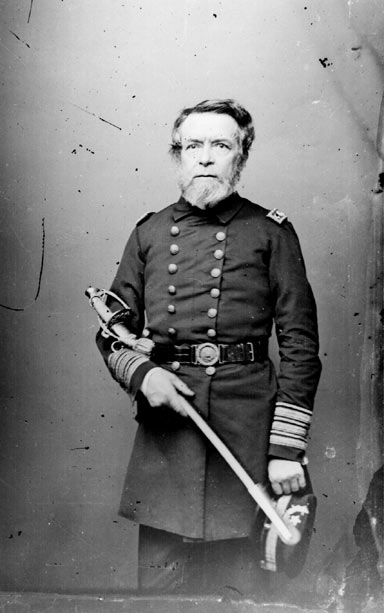 602-245-4721 or Click
CLICK IMAGE TO SEE MORE PHOTOS
*********************************************************************
SCB01. SAUERBIER SCABBARD - - PRESENTATION-GRADE TYPE 1 OFFICER'S SABER: Often you will find an amazing saber, but it is missing the original scabbard. How that happens is unknown, but you buy it in the hope of finding the scabbard one day. Well, today is that day. This is a Sauerbier scabbard for a Presentation-Grade Type 1 Officer's saber. It is steel with brass mounts engraved all over; retains all original screws, and will accommodate a 35 inch blade. Not much more to say. The correct scabbard will double the swords value. $1500.00
*********************************************************************
U470: TIFFANY SWORD, STAFF & FIELD OFFICERS CIVIL WAR SWORD, PRESENTATION GRADE: This is an absolutely outstanding Tiffany Staff & Field with Collins marked blade. It is beautiful. Although there are no other marks, it is most certainly a product constructed by Tiffany that was sold to a dealer/vender for marketing. It has a classic Tiffany style silver grip that is identical to those on Tiffany products and as most are aware, Tiffany used Collins (this is dated 1862) as its main supplier of high quality blades, even on its finest presentation grade swords. The blade is excellent with beautiful etching and the German silver scabbard is adorned with chaised decorative mounts. Mounts and hilt retain almost all of the original gold-gilt. A REALLY NICE SWORD, PRICED RIGHT. An investment grade sword!! $4650.00
*********************************************************************
U474. EMERSON & SILVER PRESENTATION-GRADE PHOENIX GUARD STAFF & FIELD SWORD, TOMES SON & MELVAIN RETAIL MARKED: This is a rare Staff & Field sword! It is a silver hilt, Rising Phoenix guard Staff & Field sword made by Emerson & Silver and retailed by Tomes Son & Melvain New York. The German silver grip retains 100% original triple-wire and has great patina. The hilt is tight with even patina, and shows a Phoenix rising from flames towards the "U. S." in the guard. The blade is held tight by the original red leather blade-washer; is maker marked "W. Clauberg, Solingen," with the retailer mark for "Tomes Son & Melvain New York." The blade is bright with traces of original frosting and a spread eagle with radiating rays, and "U.S." and military motif. There are a few minor nicks showing evidence it was carried and used. On the top of the spine of the blade near the hilt is the number "31" and the "IRON PROOF" mark. The scabbard is 100% original and extremely rare and in amazing condition! It is leather covered steel with brass mounts. This was a scabbard designed introduced during the Civil War and in most cases, the leather is in poor condition and often is missing or flacking away. This retains 100% of the original leather and with the exception of the crazing near the top month, is in amazing condition. The brass months have nice chase work and the top mount has "U.S." on the front and a presentation shield on the reverse, on the drag is stamped the number "31'' which matched the number on the blade. I have handled one other example of a Rising Phoenix hilt, but it had a standard ray-skin grip and leather scabbard. This sword surfaced several years ago and I purchased it then, and it has been in a private collection until I recently reacquired it. I have not seen another example exactly like this. Here is your chance to add a nice rare investment grade sword to your collection! $3450.00
*********************************************************************
U510. DAHLGREN BOWIE BAYONET KNIFE: This is a Dahlgren Bowie bayonet knife. Prior to the Civil War, Commander John Dahlgren developed a Bowie-style fighting knife, but in order to get it funded he marketed it as a bayonet for the Navy rifle musket (Plymouth rifle). It is rare to find one that will fit a Plymouth rifle because they had to be tooled to fit, but this one actually fits the rifle I have listed for sale F120. This knife is all original with its original scabbard. The patina on the brass is even and never cleaned. The lug-nut locking spring is operational, the wood grip is complete, and the blade has a sharp point and never sharpened. The blade is maker marked Ames, Navy inspected and dated 1863. The inspection markings are very rare because you will see a Navy anchor on both the blade and the back-end of the knife, which indicated it was not only inspected but issued. This makes it a scarce example! The scabbard is complete with no breaks or repairs, and retains all complete mounts. As mentioned, it fits the Plymouth Rifle I have for sale, but is being sold separately. If both are purchased, I will give a package deal. The Bowie is priced: $2800.00
*********************************************************************
U542. W. CLAUBERG 1840 CAVALRY OFFICERS' SABER – AMES DESIGN: One of the most popular Cavalry Officers' sabers during the Civil War was made by Ames, and several foreign manufacturers copied the design for retailers in America. Ames ultimately sued for copy-right infringement and won bringing an end to the importation of the copies. However as a result, these sabers are almost as rare to find as the Ames version, but valued at a fraction of the cost. This saber is Clauberg made with the flying eagle on the inside of the guard with traces of original gold wash. The grip is 100% original shark-skin with triple wire. The unsharpened Clauberg marked blade is lightly etched with faint original frosting, and US and the spread Eagle in the center panels. The scabbard is one of the better ones I have seen with a bright steel finish and all original brass mounts. An Ames version would be valued $7500-$8900, but here is a chance to own a unique example of a Cavalry Officers' saber well below the cost of the Ames version. $2850.00
*********************************************************************
U566. UNUSUAL STYLE IMPORT NON-REGULATION U.S. CAVALRY OFFICER: This saber is likely made in Solingen for the American Civil War and is considered a Non-Regulation pattern, and is a style seldom encountered. It is a smooth bird's head shape pommel with an integral back strap. The grip is sharkskin, triple copper wire wrap with the center strand being dragoon twist. The knuckle bow has no slot for a saber knot. There are two cavalry style branches also undecorated. There are two shield shape langets and a flat disk quillon. The blade has the flat spins of the 1840 pattern. The ricasso is short with no markings. The 12.5 inch etched panel is beautifully done with scroll work and an American Eagle under stars and an E. Pluribus Unum ribbon. The reverse has a stand of arms in place of the Eagle. The scabbard body is German Silver. The mounts appear to be silver with heavy gilt. The top mount is a long, 4.5 inch throat with a banded carry ring with line chased designs. The center mount matches, but smaller in size and the drag has the same chase-work of a line design around the blade and at the top. $1895.00
*********************************************************************
U569. EMERSON & SILVER M1850 FOOT OFFICERS SWORD: This is an Emerson & Silver M1850 Foot officers' sword. The hilt is tight with generous amounts of original gold-wash, original shark-skin grip with triple strain wire, and frosty mint condition blade held tight with the original white-buff leather washer. The etching is truly beautiful, to include the Emerson & Silver marking. The steel scabbard has developed a nice even brown patina, and ring mounts are serial number stamped 25, but the drag is marked 52 in error, kind of neat in a way. $2300.00
*********************************************************************
U570. TIFFANY & CO BASIC MODEL 1850 STAFF & FIELD SWORD: This is a basic model 1850 Staff & Field sword by Tiffany & Co. New York. The hilt design is well attributed to Tiffany and has been seen on the basic model and other embellished swords they produced. All the brass on this sword and scabbard has developed a deep rich coppery-brown patina, and is untouched. The drag show wear indicating the sword was carried, but the blade was well preserved, and WOW...frosty etching. It is Tiffany marked, but is stamped with the keystone symbol of Emerson & Silver, and has frosty etching with a little oxidation neat the tip. The grip retains 100% original shark-skin material and wire. The Tiffany name today is associated with high-end quality items, and it was the same and maybe more so in the 1800's. $2195.00
*********************************************************************
U573. M1850 STAFF & FIELD IDENTIFIED TO AN OFFICER OF THE 18TH INFANTRY COLORED TROOPS: This is a M1850 Staff & Field sword, which belonged to Captain Charles L. C. Cass of the 18th infantry, colored troops. The sword is a standard import version with the US basket hilt. The brass has a rich mustard colored patina and the grip is 100% original shark-skin with triple strand wire and it tight. The original white buff leather washer holds the 32 inch blade tight. The blade is maker marked Schnitzler & Kirschbaum Solingen and is fully etched. The blade has a dark gray-tone patina, the etching is deep and the tip has a strong point. The metal scabbard has a great gray-brown patina with all original mounts. On the reverse side of the top mount is etched "C.L.C. Cass" "Capt USV."
In December 1863 Charles Cass applied for a commission to the 6th regiment Corps d' Afriqua while at Port Hudson, LA and received a commission as a Second Lieutenant. He would be assigned to the 83rd infantry, colored troops and eventually the 18th infantry, color troops as a Company Commander. He would lead his men in the Battle of Nashville, and would sustain an accidental gunshot to the hand while in the field. Included with the sword will be a complete copy of his military record with other historical information. It is not often you find a sword attributed to an officer who led colored troops during the Civil War. $3200.00
*********************************************************************
U576. SCHULER, HARTLEY & GRAHAM – MODEL 1860 STAFF OFFICERS SWORD: This is a rare example of French made Civil War Model 1860 Staff Officers sword retailed by Schuler, Hartley & Graham New York. The 32" diamond shape blade (which is correct) is etched and marked Schuler, Hartley & Graham New York and French maker marked. The Klingenthal "B" is on the ricasso reserve side, and the counterguard underside is marked "FBD" with a sword piercing helmet (F.Delecour). The reverse clam shell folding guard is full sized with a plain field, but in the down position because the retention button is frozen. The plain brown scabbard has all brass mounts with Civil War style top-ring mounts with a plain simple drag. The hilt retains much original gold wash and has Mother-of-Pear grips, which are in mint condition. Look at John H. Thillmann's book "Civil War Army Sword" page 448 for comparison information. A Civil War Model 1860 Staff & Field sword is rare to find especially is such fine condition, but since the claim shell cannot be placed in the full open position, I have discounted the price accordingly. $1875.00
*********************************************************************
U587. M1841 NAVAL CUTLASS – AMES: This is an Ames M1841 Naval Cutlass and it obviously saw service in both the war with Mexico (1846-48) and the Civil War. The brass hilt shows wear, but is tight with the rack number 99 stamped on the guards face by the blade. The blade is Ames marked and U.S.N inspected / dated 1842, which often are worn off, and shows evidence of period sharpening as well as pitting from exposure to salt air. $995.00
*********************************************************************
U588. SAUERBIER M1850 STAFF & FIELD SWORD: Sometimes, I find a sword which is unique in many ways and gets me excited. This is such a sword! It might not be minty and bright, or shiny as many high-end pieces, but this has the age and wear that truly indicated it was carried in battle. It is an unmarked Sauerbier M1850 Staff & Field sword in a Roby Staff & Field scabbard. Was it originally purchased in this configuration, or did the officer obtain a field replacement. One will never know, but the patina on the brass matches on the sword and scabbard, and the fit is perfect. As far as I am concern, it is all original to the war. The pommel cap, and screw, and blade match Sauerbier designs. The grip retains 100% original shark-skin material, but is missing all but one strand of wire. The blade washer is gone, but the blade is tight. The blade is tired, but you can still see the original etching. Also, the blade show original period sharpening. The scabbard retains all original mounts and screws and wood liners, and has great patina. Oh, if this sword could only speak…I hear the faint sounds of battles in Virginia, Pennsylvania, maybe Shiloh or the march to the sea. This sword will display well in any collection. Free shipping. $1050.00
*********************************************************************
U589. M1850 FOOT OFFICERS SWORD: This is an M1850 Foot Officers sword, which is in great condition. It has no identified maker, but my experience tells me it is American made and not an import because there is no IRON PROOF on the top spine of the blade. The hilt has a great look with traces of original gold wash. The shark-skin grip is near perfect with one worn spot and 100% original wire. There is a little movement due to some shrinkage in the wood. The blade retains lots of original frosting and the US and Eagle etching is strong, and the blade has never been sharpened. The original scabbard shows some crazing, but is strong and retains all original mounts. Easily, a $1200.00 sword, but is available at a great holiday discounted price. $1050.00
*********************************************************************

U593.NON-REGULATION OFFICERS SWORD: This example of a Non-Regulation Officers sword with a hilt design is not often seen. It has a raised center eagle with upward turned wings above the U.S. This sword is on amazing condition and I can say it is one of the better examples of this style I have seen. It retains 100% of the original German silver on the hilt and the scabbard, and has 100% original shark-skin grip and triple-strand wire. The original red felt washer is intact and has kept the bright frosty blade tight. It is Clauberg marked and have a brass PROVE mark in the blade. On one side is etched an American eagle with US on its breast, and U.S. on the other side. The blade is in near-mint condition. The scabbard retains 100% original German silver and is free of any major issued. $1475.00
*********************************************************************
U594. NON-REGULATION STAFF & FIELD SWORD – EMERSON & SILVER: One of my favorite swords is the Non-Regulation Foot and Staff & Field sword. This has a brass guard making it a Staff & Field sword, which would be carried by Staff and Field grade Officers. It was made by Emerson & Silver Trenton, New Jersey. The hilt is tight with a nice even patina; the shark-skin grip is 100% with all its unique wire. The leather blade washer is original and it keeps the blade tight. The bright blade has nice original frosted etching with a few dark blemished, but no rust or pitting. The scabbard has a nice brown patina. $1275.00
*********************************************************************
U596. HORSTMANN – M1850 STAFF & FIELD SWORD: This is a Model 1850 Staff & Field sword from Horstmann & Son Philadelphia. This sword would have been carried by officers of the rank Major to Colonel, as well as officers assigned to a command staff. This sword has great eye appeal with traced of gold wash and a nice golden brown patina. The basket hilt is tight and the grip is 100% original shark-skin with all original wire. The blade washer is gone, but the blade is still tight, and it retains its original frosting and razor sharp etching. The scabbard has a nice brown patina and retains all original brass mounts, which have traces of gold wash and nice patina. The drag is missing its retention screw and has a dent, which it does not detract from the beauty of the sword. $2200.00
*********************************************************************
U597. AMES M1850 FOOT OFFICER SWORD: This is an Ames M1850 Foot Officer sword complete with its original leather scabbard. The sword is an early version dating to around 1860 because of the large block US letters and the top throat piece on the scabbard marked with the Ames scroll design, which was use in 1860 as well. This is not a mint condition sword, but it is 100% original with generous amounts of gold was on all brass parts. The hilt is tight and the sharkskin grip and wire are 100% original, but the seam is slightly open due to normal shrinkage. The guard has 85% plus original gold was, and the pommel cap has about 50%. The white-buff leather washier keeps the 30 inch blade tight. The blade retains all original etching with much frosting and is Ames marked. Near the tip there are few dark spots, but no pitting. The original scabbard is compete with normal crazing, but no breaks, and it has all original mounts with original retention screws and much gold. This is a lot of sword and an Ames at a great price. $1400.00
*********************************************************************
U600. AMES M1840 CAVALRY SABER – 1858: This is one of the more desirable Civil War sabers, an Ames M1840 Cavalry saber dated 1858. This was the last year for the production of this style saber as the Army transitioned to the light weight M1860 version. Only 500 of the 1858 saber were produced and delivered, and as a result they are hard to find in any condition. This one is not mint and shows use, but is still exceptional. The brass hilt is tight and has nice patina, its pommel cap is marked WAT & JH, and the leather grip and double-strand wire are 100% original and complete. The original white buff leather blade washer is present and has aged to a nice light brown patina, and it keeps the blade tight. The blade is bright with a few areas of gray spotting, but no rust. It shows period sharpening, and the length, 32 inches, appears to have been arsenal shortened from the original length of just under 36 inches. You can see the vice clam markings of the arsenals work, which was very well done. The blade is Ames marked and 1858 inspected. The scabbard is in perfict condition and original to the saber with a matching JH mark on the drag. $1100.00
*********************************************************************
UC001. MODEL 1840 CLAUBERG PRESENTATION GRADE SABER – DAMASCUS BLADE: This is a Clauberg high-grade three-branch cavalry officer saber with a German silver scabbard. The grip on this saber is one of the two rare and uncommon variants with a fluted grip and un-shucked corn in its design. Originally silver plated, this one is down to the original brass. The hilt is tight with no movements, and the original blade washer keeps it firm. The 35 inch Damascus blade is Clauberg marked, and has two etched center panels. On the left side is etched a large U. S. with the phrase We Never Surrender around the U.S., and on the right side is the spread eagle. Both etched panels retain 100% original gold wash. The scabbard body is very unique and rare in that it is silver plated brass. I put a magnet to it and it will not hold, which indicated the base metal under the plating is not steel, but brass. All the fittings are original and retail original screws, and the top and two middle mounts retain much original gold wash. The ornate original drag has been cleaned at one time, but is taking on a nice patina. As a note, the scabbard is silver plated and reflects the camera light causing some glare; but be assured it is one of the best examples I have seen. $13,000.00 SALE PRICE $9500.00
*********************************************************************
UC002. MODEL 1840 CLAUBERG PRESENTATION GRADE SABER: This saber was once in John H. Thillmann's and Kevin Hoffmann's collection and the following is the description John provided to Kevin. This saber is a very fine example of a higher grade Clauberg Civil War cavalry saber made with presentation in mind. It has a wonderful hilt, silver grip, gold washed blade and fancy scabbard with fancy mounts. John described the scabbard as being steel, but a magnet will not stick to it, so it is most likely brass. The 35 inch blade is held tight with a red wool scallop cut washer.
Obverse: gold was beginning at ricasso for 13 inches, panoply of arms, 3 inches in length (crossed cannons) drums and a cap backorders with crossed pikes and waving flag, then to an intricate floral and leafy vine design, which frames the motto UNION FOR EVER followed by an horizontal script US with fine leaf foliate continuing to the end of the panel.
Reverse: this side has a typical Clauberg stamp in an oval surrounding the standing knight. The blade etching is gold washed and has the typical elaborately etched Eagle with sun burst above and the E. Pluribus Unum in a ribbon, then intricate floral and leafy vine etching to the end.
Scabbard is German silver plated brass, it has a couple tiny dents near the bottom, has all original mounts. The grip is Spiral silver with brass gilt wire, and the hilt is the typical 3-branch fancy relief cast guard with high-quality chase work. $13,000.00 SALE PRICE $9750.00
*********************************************************************

UC003.HIGH-GRADE STAFF & FIELD SWORD – BAILEY & CO., PHILADELPHIA: This is an amazing sword, and one that will be a center piece in any collection. In fact, this sword is featured on the cover of John H. Thillmann's second sword book Civil War Army Sword and is the exact sword described on page 287-289. Bailey & Co., supplied high-quality swords and this presentation-grade sword has very fine lines and an extremely handsome appearance. The grip is sterling silver cast and chased to look and feel like shark-skin. The pommel cap is ornate with a standing eagle on top; the Damascus blade is Clauberg maker marked and retailer marked Bailey & Co, and had amazing etching to include a battle field scene, and the scabbard has ornate mounts that retain much original gold wash. If you have John's book please look at his description. When this sword was first released for sale it was priced at $16,500.00; however, it is available at a much reduced price.
*********************************************************************
UC004. SAUERBIER TYPE 3 CAVARLY OFFICER SABER, 2ND VARIATION: This is a Sauerbier Type 3 Cavalry Officers saber, 2nd Variation. It is an ornate saber with a German silver spiral grip with triple-stand brass wire. It has a deeply cast pommel cap with two mother or pearl inlays, a Union shield on top and a large cameo of George Washington on the back side. Both inlays are in perfect condition with no blemishes. The triple branch guard retains much of the original gold wash. The bright blade is held tight by the original scalloped leather washer. The etching is simple outstanding with much original frosting, no rust. The scabbard design is truly magnificent and among the best of Sauerbier's work. Steel body of the scabbard has a great brown patina and all the fancy mounts retain much original gold wash and all original screws. The back side of the ring mounts has two heart designs whereas the back of the drag has an open shield design. This is a great saber and will only increase in value. $13,000.00 SALE PRICE $9750.00
*********************************************************************
UC005. TIFFANY PRESENTATION M1850 STAFF & FIELD SWORD - "G" CO. NY 48TH VOLUNTARY INFANTRY: This is a Presentation sword from Tiffany, New York with a Collins dated blade. In the early years of the Civil War high-grade presentation swords were not yet available and as a result the early presentation sword were often the standard M1850 Foot Officer and Staff & Field sword swords, as is the case with this one. This is the basis M1850 Staff & Field sword retailed by Tiffany. The hilt is the large basket design with US in it, grip is 100% shark-skin with triple twisted wire, an 1861 dated Collins blade, with is Tiffany etched. The scabbard has a nice brown patina with brass mounts, all which have nice chase work. On the front of the top mount is a large US and on the reverse is the presentation: "Presented by the Members of Company G 48th Reg NYSV Capt A. Edmendorf January 1, 1862."
Captain Anthony Elmendorf joined the 48th New York on 26 July 1861, at Brooklyn, New York, his home of residence. He was promoted to captain on 26 August of that year. He was 20 or 21 years old at the time. He was given command of 'G' Company, which he had helped organize. Elmendorf's proficiency in drill acquired in the Thirteenth Regiment New York Militia obtained him his appointment as captain and to him was assigned the duty for a time of drilling the officers of the regiment until this duty was assumed by Colonel Perry himself. He was at Fort Pulaski, and later discharged on 19 April 1864 after submitting his resignation. I am waiting on copies of his military record and pension file for more information.
This is a great early New York state presentation sword with great eye appeal and descent history. $4700.00
*********************************************************************
UC006. AMES M1850 FOOT OFFICER SWORD – PRESENTATION 10TH REGIMENT, COMPANY A NGSNY, ALBANY ZOUAVE CADETS: This Ames M1850 Foot Officer sword was presented to First Lieutenant D. S. Benton of the 10th Regiment, Company A, Nation Guard State of New York, Albany Zouave Cadets. Daniel S. Benton was a resident of Albany New York and a member of the Albany Zouave Cadets. On January 21, 1861 the first military officers were chosen for the unit, and Fourth Sergeant Daniel S. Benton is listed. December 29, 1860, the Albany Zouave Cadets were joined to the National Guard and attached to the Tenth Regiment as Company A. It was mustered in the United States service as Company A, 177th New York Volunteers, on November 21, 1862 and mustered out September 10, 1863. The published history for the Albany Zouave shows Daniel S. Benton with the unit from the 1860's as a Fourth Sergeant promoted to First Lieutenant in 1864, and a Colonel in 1883, and receiving a presentation sword in 1864. During his 90-day combat enlistment he was with is unit at McGilps Ferry, La., January 6, 1863; Ponchatoula, La., March 24, 1863; McGill's Ferry, La., March 24, 1863;Civique's Ferry, La., March 25, 1863; Amite River, La., May 10 and 11, 1863; Port Hudson, La., May 23 to July 8, 1863.
This sword is in great condition and retains mush original gold wash. The blade washer is missing, but the frosty blade is tight with no nicks, pitting or rust. The scabbard is strong with all original mounts and screws. I believe the brass was clean, but is taking on a nice patina. Here is a great presentation sword at a great price. $2900.00
*********************************************************************************************
U601. M1850 MOUNTED INFANTRY OFFICER SWORD: When a M1850 Foot Officers sword is in a metal scabbard, it is a considered a Mounted Infantry Officer version and that is what this it. The metal scabbard is one of the best I have seen with 100% original gold wash on all brass, and a perfict brown finish on the steel. The hilt retains much original gold wash, and the shark-skin grip and original wire is 100% intact. The blade retains some frosting at the base, but has a soft gray patina. The etching is strong with a vertical etched eagle. There is no rust or pitting, but there are a few nicks indicating the sword was carried. However, there are no maker or dealer marks. Overall, it is an outstanding example of a Mounted Infantry Officers sword. $1400.00
*********************************************************************************************
****************************************************************

Credit Cards accepted for all purchases!

Please confirm availability

Contact Number: (602) 245-4721
© 2004 Arizona Swords azswords.com. All rights reserved in all media