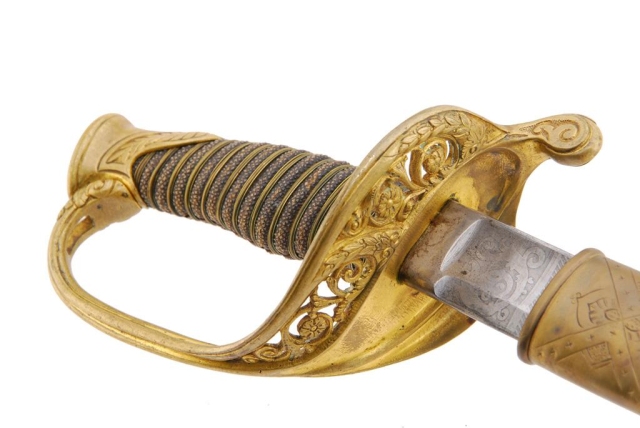 ARIZONA SWORDS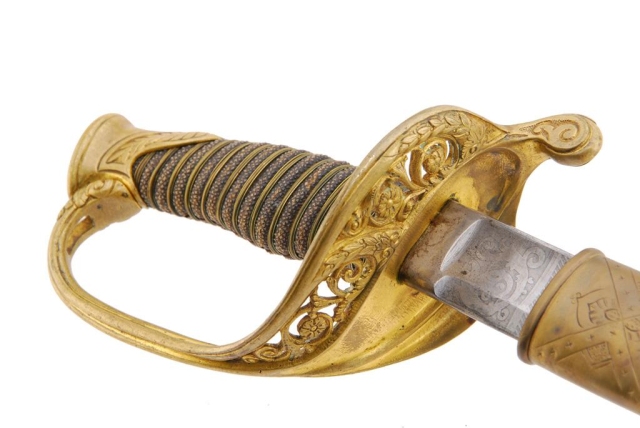 Union Blades
CLICK BUTTONS BELOW TO SEE OTHER AVAILABLE ITEMS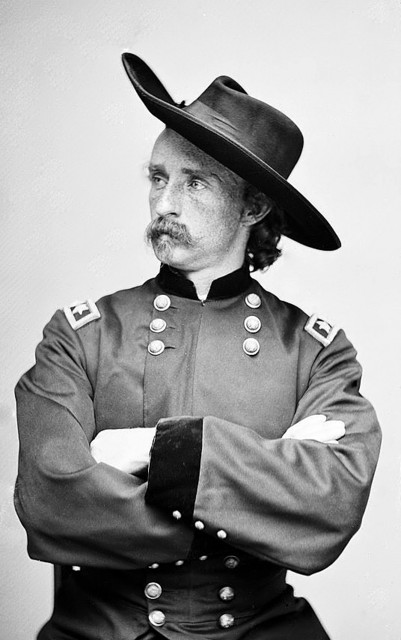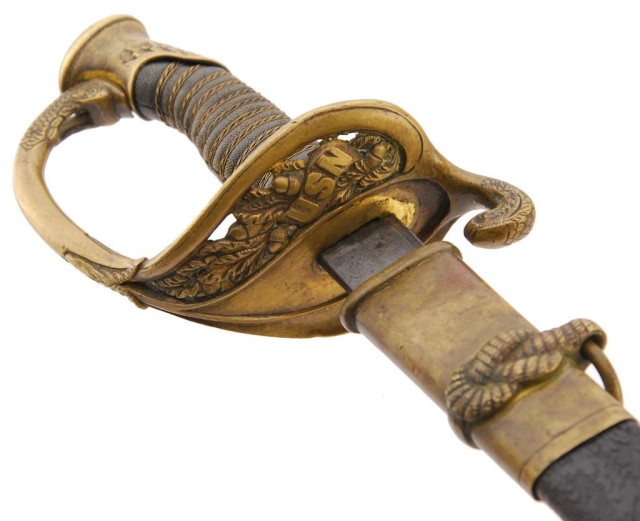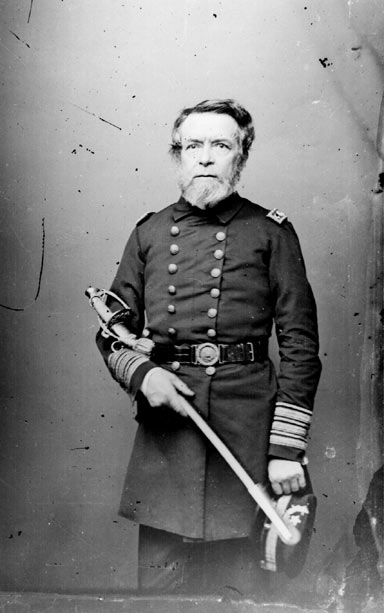 602-245-4721 or Click
CLICK IMAGE TO SEE MORE PHOTOS
*********************************************************************************************

SKNOT01. CIVIL WAR OFFICRS SWORD KNOT: This is a mint condition Civil War Officers sword knot with a blue field. It is the best one I have found in some years. Place it on you Civil War Army, Marine Corps or Navy sword and see how much it will enhance its look. $375.00
*********************************************************************************************
U470: TIFFANY SWORD, STAFF & FIELD OFFICERS CIVIL WAR SWORD, PRESENTATION GRADE: This is an absolutely outstanding Tiffany Staff & Field with Collins marked blade. It is beautiful. Although there are no other marks, it is most certainly a product constructed by Tiffany that was sold to a dealer/vender for marketing. It has a classic Tiffany style silver grip that is identical to those on Tiffany products and as most are aware, Tiffany used Collins (this is dated 1862) as its main supplier of high quality blades, even on its finest presentation grade swords. The blade is excellent with beautiful etching and the German silver scabbard is adorned with chaised decorative mounts. Mounts and hilt retain almost all of the original gold-gilt. A REALLY NICE SWORD, PRICED RIGHT. An investment grade sword!! $4650.00
*********************************************************************************************
U510. DAHLGREN BOWIE BAYONET KNIFE: This is a Dahlgren Bowie bayonet knife. Prior to the Civil War, Commander John Dahlgren developed a Bowie-style fighting knife, but in order to get it funded he marketed it as a bayonet for the Navy rifle musket (Plymouth rifle). It is rare to find one that will fit a Plymouth rifle because they had to be tooled to fit, but this one actually fits the rifle I have listed for sale F120. This knife is all original with its original scabbard. The patina on the brass is even and never cleaned. The lug-nut locking spring is operational, the wood grip is complete, and the blade has a sharp point and never sharpened. The blade is maker marked Ames, Navy inspected and dated 1863. The inspection markings are very rare because you will see a Navy anchor on both the blade and the back-end of the knife, which indicated it was not only inspected but issued. This makes it a scarce example! The scabbard is complete with no breaks or repairs, and retains all complete mounts. As mentioned, it fits the Plymouth Rifle I have for sale, but is being sold separately. If both are purchased, I will give a package deal. The Bowie is priced: $2800.00
*********************************************************************************************
U542. W. CLAUBERG 1840 CAVALRY OFFICERS' SABER – AMES DESIGN: One of the most popular Cavalry Officers' sabers during the Civil War was made by Ames, and several foreign manufacturers copied the design for retailers in America. Ames ultimately sued for copy-right infringement and won bringing an end to the importation of the copies. However as a result, these sabers are almost as rare to find as the Ames version, but valued at a fraction of the cost. This saber is Clauberg made with the flying eagle on the inside of the guard with traces of original gold wash. The grip is 100% original shark-skin with triple wire. The unsharpened Clauberg marked blade is lightly etched with faint original frosting, and US and the spread Eagle in the center panels. The scabbard is one of the better ones I have seen with a bright steel finish and all original brass mounts. An Ames version would be valued $7500-$8900, but here is a chance to own a unique example of a Cavalry Officers' saber well below the cost of the Ames version. $2850.00
*********************************************************************************************
U543. SAUERBIER CAVALRY OFFICER'S SABER, MID GRADE TYPE 1, PLAIN MOUNTS: Sauerbier cavalry officer's sabers are seldom encountered and always have distinctive features. This example is a mid-grade type 1 Officer's saber with plain mounts, and is the exact one featured on page 349 of the book "Civil War Cavalry & Artillery Sabers" by John H. Thillmann. It has an etched blade with a large panel with the maker mark, and bold block lettered US. The hilt is deeply engraved with a great chased quillion, guard and knuckle bow. The pommel cap is the unique Sauebier turned down version with a recessed spanner nut, and the grip is the typical oversized version with 100% original leather and wire. This is a rare saber to find, and how often do you have the chance to own one that is published and well documented. $2650.00
*********************************************************************
U546. STAFF & FIELD CAVALRY OFFICER SABER: This is a very unique Staff & Field Cavalry Officer saber with a gold-washed blade. It is rare to find one with a standard Staff & Field hilt. In fact, the hilt is the style often found on a Tiffany Staff & Field officer sword. The Clauberg blade is gold-wash "For Union and Liberty" and the spread eagle and US on the other side. The blade is in mint condition, and the hilt retains its original finish with 100% original shark-skin grip and triple strand wire. The scabbard is in perfect condition with no dents or dings, and has all original mounts. Simply one of the best I have seen! $3900.00
*********************************************************************************************
U561. M1821 NON-REGULATION INFANTRY NCO SWORD – VERMONT PRESENTATION: This is a model 1821 Non-Regulation Infantry NCO sword presented to a Sergeant Major of the 3rd Vermont Infantry Regiment. This sword is in mint condition with 100% original shark-skin grip and single twisted brass wire. It is the basic pattern as the officer's model, but with a slightly shorter blade, and scabbard designed with a frog stud for carry by a SNCO. The top throat mount has the presentation that reads:
"PRESENTED TO SERGT. MAJOR G.P. BROWN 3rd Vt Inf Nov 14, 1863."
George F. Brown enlisted 6/1/1861 as a Private and mustered into "G" Co 3rd Vt Infantry. He was promoted to Sergeant Major 11/14/1863, 1st Lieutenant 6/26/1864 and Quartermaster 10/18/1864. He was a Sergeant Major for just over 7 months, which accounts for the sword being in such mint condition. Muster sheets show that he was a clerk prior to being promoted, and as a Sergeant Major served in the Quartermaster corps. As a line officer, it looks as if he served in the infantry prior to being elevated to Quartermaster.
The 3rd Vermont Infantry was heavy engaged in many of the major battles of the Civil War, and no doubt Brown was actively involved being close enough to provide needed support to the front line troops.
ENGAGEMENTS
| | | | |
| --- | --- | --- | --- |
| Battle of Lewinsville | September 11, 1861 | Battle of Rappahannock Station | November 7, 1863 |
| Battle at Lee's Mills | April 16, 1862 | Battle of the Wilderness | May 5–10, 1864 |
| Battle of Williamsburg | May 5, 1862 | Battle of Spotsylvania | May 10-18, 1864 |
| Battle of Garnett's & Golding's Farm | June 26, 1862 | Battle of Cold Harbor | June 1-12, 1864 |
| Battle of Savage's Station | June 29, 1862 | Battle of Petersburg | June 18, 1864 |
| Battle of White Oak Swamp | June 30, 1862 | Battle of Reams' Station | June 29, 1864 |
| Battle of Crampton's Gap | September 14, 1862 | Fort Stevens (Washington, D.C.) | July 11, 1864 |
| Battle of Antietam | September 17, 1862 | Battle of Charlestown | August 21, 1864 |
| Battle of Fredericksburg | December 13, 1862 | Battle of Opequon (Gilbert's Ford) | September 13, 1864 |
| Battle of Marye's Heights | May 3, 1863 | Battle of Winchester (Opequon) | September 19, 1864 |
| Battle of Salem Church | May 4, 1863 | Battle of Fisher's Hill | September 21-22, 1864 |
| Battle of Fredericksburg | June 5, 1863 | Battle of Cedar Creek | October 19, 1864 |
| Battle of Gettysburg | July 3, 1863 | Battle of Petersburg | March 25, 1865 |
| Battle of Funkstown | July 10, 1863 | Battle of Petersburg | April 2, 1865 |
Here is a chance to acquire a mint condition presentation sword to a Sergeant Major of the 3rd Vermont Infantry who later promoted to Lieutenant. Very rare! A complete copy of military records included. $3150.00
*********************************************************************************************
U570. TIFFANY & CO BASIC MODEL 1850 STAFF & FIELD SWORD: This is a basic model 1850 Staff & Field sword by Tiffany & Co. New York. The hilt design is well attributed to Tiffany and has been seen on the basic model and other embellished swords they produced. All the brass on this sword and scabbard has developed a deep rich coppery-brown patina, and is untouched. The drag show wear indicating the sword was carried, but the blade was well preserved, and WOW...frosty etching. It is Tiffany marked, but is stamped with the keystone symbol of Emerson & Silver, and has frosty etching with a little oxidation neat the tip. The grip retains 100% original shark-skin material and wire. The Tiffany name today is associated with high-end quality items, and it was the same and maybe more so in the 1800's.
*********************************************************************************************
U576. SCHULER, HARTLEY & GRAHAM – MODEL 1860 STAFF OFFICERS SWORD: This is a rare example of French made Civil War Model 1860 Staff Officers sword retailed by Schuler, Hartley & Graham New York. The 32" diamond shape blade (which is correct) is etched and marked Schuler, Hartley & Graham New York and French maker marked. The Klingenthal "B" is on the ricasso reserve side, and the counterguard underside is marked "FBD" with a sword piercing helmet (F.Delecour). The reverse clam shell folding guard is full sized with a plain field, but in the down position because the retention button is frozen. The plain brown scabbard has all brass mounts with Civil War style top-ring mounts with a plain simple drag. The hilt retains much original gold wash and has Mother-of-Pear grips, which are in mint condition. Look at John H. Thillmann's book "Civil War Army Sword" page 448 for comparison information. A Civil War Model 1860 Staff & Field sword is rare to find especially is such fine condition, but since the claim shell cannot be placed in the full open position, I have discounted the price accordingly. $1900.00
*********************************************************************************************
U587. M1841 NAVAL CUTLASS – AMES: This is an Ames M1841 Naval Cutlass and it obviously saw service in both the war with Mexico (1846-48) and the Civil War. The brass hilt shows wear, but is tight with the rack number 99 stamped on the guards face by the blade. The blade is Ames marked and U.S.N inspected / dated 1842, which often are worn off, and shows evidence of period sharpening as well as pitting from exposure to salt air. $995.00
*********************************************************************************************
U588. SAUERBIER M1850 STAFF & FIELD SWORD: Sometimes, I find a sword which is unique in many ways and gets me excited. This is such a sword! It might not be minty and bright, or shiny as many high-end pieces, but this has the age and wear that truly indicated it was carried in battle. It is an unmarked Sauerbier M1850 Staff & Field sword in a Roby Staff & Field scabbard. Was it originally purchased in this configuration, or did the officer obtain a field replacement. One will never know, but the patina on the brass matches on the sword and scabbard, and the fit is perfect. As far as I am concern, it is all original to the war. The pommel cap, and screw, and blade match Sauerbier designs. The grip retains 100% original shark-skin material, but is missing all but one strand of wire. The blade washer is gone, but the blade is tight. The blade is tired, but you can still see the original etching. Also, the blade show original period sharpening. The scabbard retains all original mounts and screws and wood liners, and has great patina. Oh, if this sword could only speak…I hear the faint sounds of battles in Virginia, Pennsylvania, maybe Shiloh or the march to the sea. This sword will display well in any collection. Free shipping. $1050.00
*********************************************************************************************
U596. HORSTMANN – M1850 STAFF & FIELD SWORD: This is a Model 1850 Staff & Field sword from Horstmann & Son Philadelphia. This sword would have been carried by officers of the rank Major to Colonel, as well as officers assigned to a command staff. This sword has great eye appeal with traced of gold wash and a nice golden brown patina. The basket hilt is tight and the grip is 100% original shark-skin with all original wire. The blade washer is gone, but the blade is still tight, and it retains its original frosting and razor sharp etching. The scabbard has a nice brown patina and retains all original brass mounts, which have traces of gold wash and nice patina. The drag is missing its retention screw and has a dent, which it does not detract from the beauty of the sword. $2200.00
*********************************************************************************************
U597. AMES M1850 FOOT OFFICER SWORD: This is an Ames M1850 Foot Officer sword complete with its original leather scabbard. The sword is an early version dating to around 1860 because of the large block US letters and the top throat piece on the scabbard marked with the Ames scroll design, which was use in 1860 as well. This is not a mint condition sword, but it is 100% original with generous amounts of gold was on all brass parts. The hilt is tight and the sharkskin grip and wire are 100% original, but the seam is slightly open due to normal shrinkage. The guard has 85% plus original gold was, and the pommel cap has about 50%. The white-buff leather washier keeps the 30 inch blade tight. The blade retains all original etching with much frosting and is Ames marked. Near the tip there are few dark spots, but no pitting. The original scabbard is compete with normal crazing, but no breaks, and it has all original mounts with original retention screws and much gold. This is a lot of sword and an Ames at a great price.
*********************************************************************************************
U600. AMES M1840 CAVALRY SABER – 1858: This is one of the more desirable Civil War sabers, an Ames M1840 Cavalry saber dated 1858. This was the last year for the production of this style saber as the Army transitioned to the light weight M1860 version. Only 500 of the 1858 saber were produced and delivered, and as a result they are hard to find in any condition. This one is not mint and shows use, but is still exceptional. The brass hilt is tight and has nice patina, its pommel cap is marked WAT & JH, and the leather grip and double-strand wire are 100% original and complete. The original white buff leather blade washer is present and has aged to a nice light brown patina, and it keeps the blade tight. The blade is bright with a few areas of gray spotting, but no rust. It shows period sharpening, and the length, 32 inches, appears to have been arsenal shortened from the original length of just under 36 inches. You can see the vice clam markings of the arsenals work, which was very well done. The blade is Ames marked and 1858 inspected. The scabbard is in perfict condition and original to the saber with a matching JH mark on the drag. $1100.00
*********************************************************************************************
U603: EMERSON & SILVER ARTILLERY SABER – SCARCE: Emerson & Silver Artillery sabers are very scarce in any condition. The United States Ordnance Department did not purchase any, and the only known customer was the state of New Jersey, which purchased them in 1863. The most striking feature is the blade, which is made like the M1860 cavalry saber with the same blade dimensions, but with only a large fuller and two-inches shorter. The other noticeable difference is the shallower curve as opposed to the more striking regulation saber such as an Ames. The scabbard is made to fit and has a poorer quality in appearance. The saber here for sale has a tight hilt with 100% original black leather and double-strand wire, and much original gold wash on the guard and pommel cap. The blade is Emerson & Silver marked and dated 1863 and stamped N.J. Also, there is the number 11 on the underside of the guard, confirming that the saber was issued. The blade is nick and rust free and has a nice even gray patina. The scabbard is original and tightly fits the blade and it has a few door dings, but no rust or pitting. This saber is often missing from many sword collections as well as New Jersey Civil War collections.
*********************************************************************************************
UC006. AMES M1850 FOOT OFFICER SWORD – PRESENTATION 10TH REGIMENT, COMPANY A NGSNY, ALBANY ZOUAVE CADETS: This Ames M1850 Foot Officer sword was presented to First Lieutenant D. S. Benton of the 10th Regiment, Company A, Nation Guard State of New York, Albany Zouave Cadets. Daniel S. Benton was a resident of Albany New York and a member of the Albany Zouave Cadets. On January 21, 1861 the first military officers were chosen for the unit, and Fourth Sergeant Daniel S. Benton is listed. December 29, 1860, the Albany Zouave Cadets were joined to the National Guard and attached to the Tenth Regiment as Company A. It was mustered in the United States service as Company A, 177th New York Volunteers, on November 21, 1862 and mustered out September 10, 1863. The published history for the Albany Zouave shows Daniel S. Benton with the unit from the 1860's as a Fourth Sergeant promoted to First Lieutenant in 1864, and a Colonel in 1883, and receiving a presentation sword in 1864. During his 90-day combat enlistment he was with is unit at McGilps Ferry, La., January 6, 1863; Ponchatoula, La., March 24, 1863; McGill's Ferry, La., March 24, 1863;Civique's Ferry, La., March 25, 1863; Amite River, La., May 10 and 11, 1863; Port Hudson, La., May 23 to July 8, 1863.
This sword is in great condition and retains mush original gold wash. The blade washer is missing, but the frosty blade is tight with no nicks, pitting or rust. The scabbard is strong with all original mounts and screws. I believe the brass was clean, but is taking on a nice patina. Here is a great presentation sword at a great price.
*********************************************************************************************
U601. M1850 MOUNTED INFANTRY OFFICER SWORD: When a M1850 Foot Officers sword is in a metal scabbard, it is a considered a Mounted Infantry Officer version and that is what this it. The metal scabbard is one of the best I have seen with 100% original gold wash on all brass, and a perfict brown finish on the steel. The hilt retains much original gold wash, and the shark-skin grip and original wire is 100% intact. The blade retains some frosting at the base, but has a soft gray patina. The etching is strong with a vertical etched eagle. There is no rust or pitting, but there are a few nicks indicating the sword was carried. However, there are no maker or dealer marks. Overall, it is an outstanding example of a Mounted Infantry Officers sword.
*********************************************************************************************
U607. NON-REGULATION FOOT OFFICERS SWORD: It has been some time since I have been able to find a mint condition Non-Regulation Foot Officers sword. Next to the standard M1850 Foot Officers sword, the Non-Regulation Foot Officer sword is the most common sword carried by company grade officers, Lieutenants and Captains, during the Civil War. To coin the phrase: they are a dime a dozen. That being said, it is extremely rare to find one in mint condition with a perfectly etched and frosty blade. The guard is perfict; the grip is 100% original with all its wire; the white buff blade washer is intact; the blade is nick and rust free maker marked Horster Solingen, and the scabbard has no dents. $1700.00
*********************************************************************************************
U608. AMES M1860 NAVAL CUTLASS, SCABBARD & FROG: With the exception of no leather on the grip, this is a great looking Ames M1860 Naval Cutlass. The guard is dent free; pommel cap inspection marked DR; rack number 32M over 336; blade Ames maker marked and dated inspected 1862, and a very nice looking blade. The scabbard is in outstanding condition with no cracks or brakes and has its tip. The frog is original and show normal wear. $1600.00
*********************************************************************************************
U609. M1840 SABER, INDIANA IDENTIFIED: This M1840 saber is identified to Spencer H. Buchanan, L Company, Indiana 9th Cavalry. On the pommel cap is stamped S H Buchanan - Co. L, and there is only one perfict match in the Civil War date base. The saber is compete with itsoriginal scabbard, which is also marked Co L on the drag. The saber is unmarked, has the M1840 style guard and grip, but the blade appears to the light heavy cav blade similar to the M1860 light cavalry version. It is original and you can see the tang's patina is smooth and unaltered. The scabbard is the standard M1840 design and matches other examples sold out of Philadelphia. The 9th's history is short, but they saw action.
This regiment, the 121st of the line, was organized during the fall and winter of 1863-64, and was mustered in on March 1. It left the state May 3 for Nashville, Tenn., than went to Pulaski, where it remained until Nov. 23 participating in the movements against Forrest and Wheeler.
A portion of the regiment, under command of Maj. Lilly, was in an engagement at Sulphur Branch trestle, Ala., losing 196; killed, wounded and missing. After Hood's defeat at Nashville, the regiment was in action at Franklin with Forrest's cavalry, losing 26 ; killed, wounded and captured, and then went into camp at Gravelly Springs, Ala., until Feb. 6, 1865, when it was ordered to New Orleans.
Here it was detached, turned over its horses, and on March 25, arrived at Vicksburg, where it was again mounted and assigned to garrison duty in the interior of the state. It returned to Vicksburg May 22, and was mustered out on Aug. 28, 1865.
On April 26, 1865, by the explosion on the steamer Sultana, the regiment lost 55 men - paroled prisoners of war. Those who escaped the disaster reached Indianapolis early in May and were mustered out while under parole.
The original strength of the regiment was 1,267; gain by recruits, 67; total, 1,334. Loss by death, 206; by desertion, 126; unaccounted for, 20. Identified Indiana sabers are hard to come by.
*********************************************************************************************


U610.T-MARKED M1850 FOOT OFFICERS SWORD: This is a T-Marked M1850 Foot Officers sword complete with its original scabbard. For years T-Marked sabers and swords have been identified to Tomes, Son and Melvain Company; however, this identification has recently been revised and the T marks is believed to be attributed to Phillip H. Tuska of New York, NY. He was a military outfitter and had a military contract for cavalry sabers and NCO sword 1861-1862, and it go without saying that he also sold other swords and military supplies. This M1850 sword has a deep rich untouched patina on the guard, which matched the fittings on the scabbard. The grip is original black leather with twisted wire. The original blade washer keeps the bright 32 inch blade tight. The blade is T marked as well as IRON PROOF on the spine, and deeply etched with a large American eagle with upward turned wings, and US facing towards the tip. The leather scabbard has the original mounts with screws; is complete with no breaks; has some leather lose and crazing, but still fits the sword well. $750.00
*********************************************************************************************
U611. M1850 STAFF & FIELD SWORD: This is a Civil War period M1850 Staff & Field sword complete with the original scabbard. The hilt retains better than 90%original gold wash, and the ornate guard and pommel cap are tight. The sharkskin grip retains better the 98% original material and 100% original wire. You can see a little loss near the guard. The blade etching is strong and there are traces of original frosting. It is maker marked with what I think is a shield with a Z, which would make it Clemen & Jung. The blade is also marked Eisenhauer. The original scabbard retains all mounts and screws and is dent free, and has a nice patina. The mounts all have outstanding chase work, especially the drag, and have traces of gold wash. Even the original wood liners are present. $1450.00
*********************************************************************************************
U612. M1852 NAVAL OFFICER SWORD – IDENTIFIED: This M1852 Naval Officer sword is identified to Edward A. Robinson, Charlestown MASS. Robinson began his military service by enlisted at the age of 18 on July 23, 1862 as a musician; on Aug. 27,1862 he mustered into "B" Co. MA 36th Infantry, and was discharged for disability on Nov, 21, 1862. However, prior to being discharged from the Army, he enlisted in the Navy on Sept. 16, 1862 and was assigned to the receiving ship Ohio. His navy enlistment said he was 25, born in Corinth Maine and was a farmer. Obviously he must have lied about his age.
As a Seaman, he serves on the U.S.S. Lancaster Jan. 01, 1863 and on the U.S.S. Cyane Sept. 22, 1863 until transferred to the receiving ship North Carolina May 25, 1864 awaiting promotion. On June 23, 1864 he received an appointed to the rank of Third Assistant Engineer. He was assigned to the U.S.S. Wilderness, serving on that vessel and on the U.S.S. Hetzel until April 3, 1866 when ordered to the U.S.S. Squando, May 24, 1866 waiting orders for duty on the U.S.S. Glasgow July, 7 1866 to March 9, 1868. He was discharged for service on April 30, 1868 and would receive military pension for disability for illness contracted while in the Navy.
This sword is the basic M1852 Naval Officer sword made by Clauberg, Solingen. The hilt is tight with better than 50% original gold wash, The white sharkskin grip is 100% complete and retains 100% original triple-stand wire. The original red felt blade washer is present and keeps the 29 1/4 inch blade tight. The etching is very strong with all original frosting. The original black leather scabbard is complete with no breaks, but has normal wear, crazing, bump and dings. It has all original mounts and screws, and the identification is nicely etched on the top throat piece. A search of records has found his military and pension records, which is being compiled and will be included. Also of note, is the fact he saw action while serving on several ships both while enlisted and officer. Identified Civil War Naval swords are not that common, especially with such a good history. A flash-drive with 165 pages of historical information will be included. $2600.00
*********************************************************************************************
****************************************************************

Credit Cards accepted for all purchases!

Please confirm availability

Contact Number: (602) 245-4721
© 2004 Arizona Swords azswords.com. All rights reserved in all media