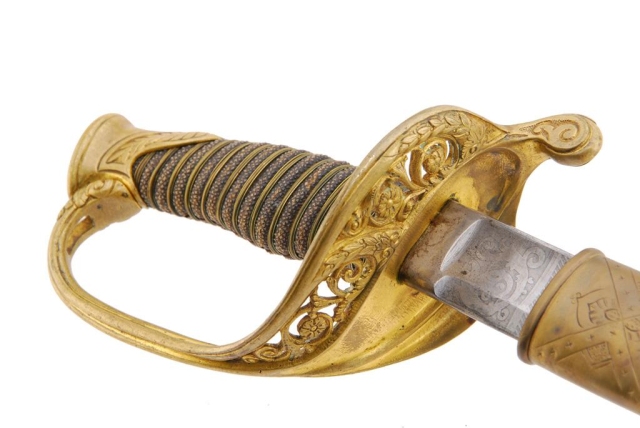 ARIZONA SWORDS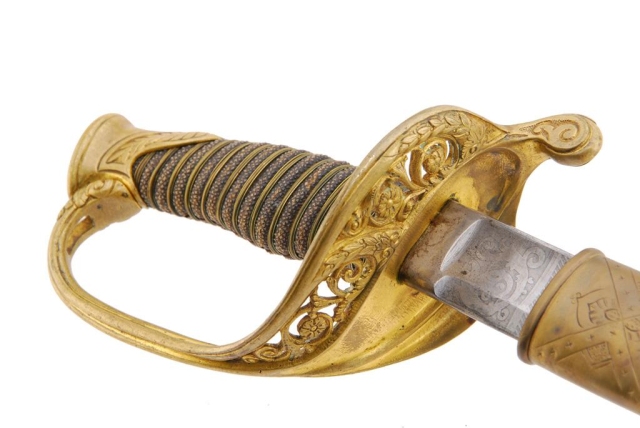 Union Blades
CLICK BUTTONS BELOW TO SEE OTHER AVAILABLE ITEMS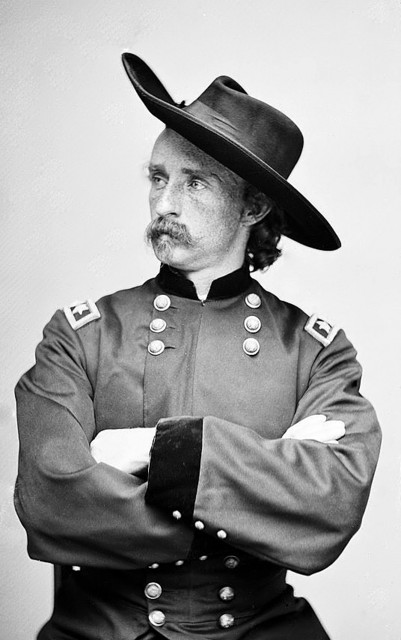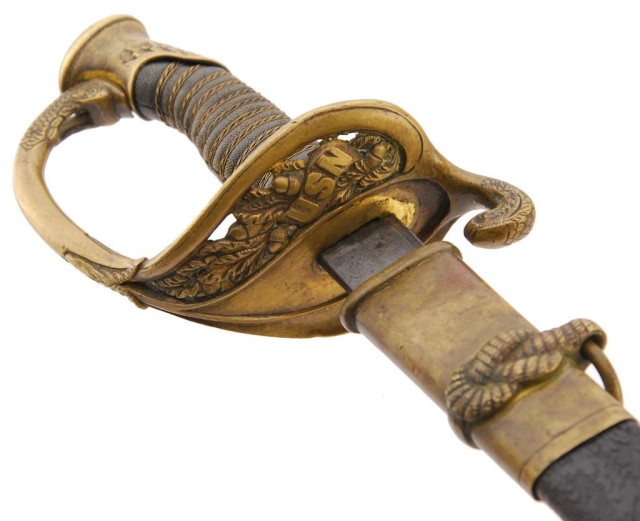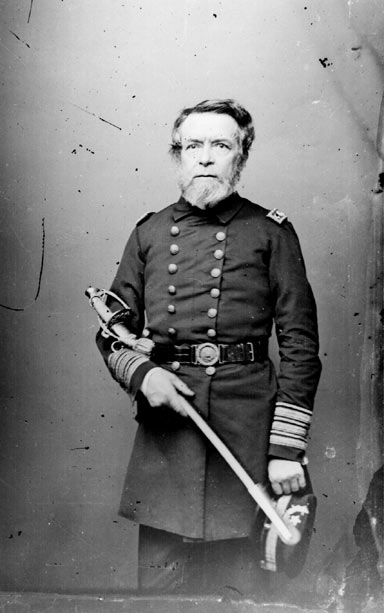 602-245-4721 or Click
CLICKTHE SWORD PHOTO TO SEE MORE IMAGES
U234. NON-REGULATION STAFF & FIELD OFFICER'S SWORD: This high end Non-Regulation Staff & Field Officer's sword is the second of this style I have ever purchased, and only the third I have seen; but the third one was in extremly rought condition. This is the only one with this high-grade designed scabbard. The brass hilt has the rare Lady Columbia holding a shield with "US" on it and an eagle clutching her staff. This hilt is tight with 100% shark-skin grip and triple strand wire. The blade is Clauberg marked and mirror bright with crisp etching. The scabbard is not the steel version, but what appears to be silver plated brass, brass mounts with amazing chase work from top to bottom. Between the top mounts is a Federal Eagle, and between the middle mount and the drag are cross American flags. The scabbard retains the original wood liner and fits the sword like a glove, and the patina on the brass thoat piece perfectly matched the hilts. This is a rare design and not often seen, especially with this scabbard. A truly one of a kind sword. $3500.00
U463. IDENTIFIED NAVAL OFFICERS' SWORD, UNIFORM, COMMISSION PAPER, BELT AND WAR RELIC: This is truly a rare find, a Civil War naval grouping identified to Howard D. Potts, Assistant Engineer U.S. Navy. It includes a swollow-tail dress uniform, naval officers' sword, commission paper, war relic, Civil War naval belt with buckle, and a post-war naval belt with buckle. Howard Potts was born in Pennsylvania on December 16, 1840. He entered service at the very outbreak of the war under "Presidents Lincoln's first call for 75,000 troops" as a private and band member in Captain McKnight's Ringgold Light Artillery from Reading Pennsylvania. His original term of service was for three months, in keeping with the belief by both sides that the conflict would be a short one. Howard Potts re-enlisted in November 16, 1861 as a Third Assistant Engineer U.S. Navy where he began a long naval career. He would later promote to Second Assistant Engineer.
Here is a list of his assigned ships and posts during his career. While at sea, he would see action against several Confederate naval vessels, and the Korean Punitive Expedition of 1871.This uniform tells of the years of service from the Civil War to the Korean Punitive Expedition of 1871. The Naval Officers' dress uniform is an original Civil War period coat with all matching buttons and Assistant Engineer rank insiginal on the sleeve.
Philadelphia Navy Yard

USS WaterWitch

Philadelphia Navy Yard

USS Tioga

Boston Navy Yard

Philadelphia Navy Yard

Boston Navy Yard

USS Pinola

Promoted to Second Assistant Engineer

Philadelphia Navy Yard

USS Dacotah

Philadelphia Navy Yard

USS Monocacy

Philadelphia Navy Yard

Naval Asylum

Naval Home

November 16 to December 2, 1861

December 2, 1861 to April 14, 1862

April 14, 1862 to May 9, 1862

May 9, 1862 to September 30, 1863

September 30, 1863 to November 27, 1863

November 27, 1863 to January 6, 1864

January 6, 1864 to March 21, 1864

March 21, 1864 to July 15, 1865

Promoted to Second Assistant Engineer

July 15, 1865 to November 24, 1865

November 24, 1865 to September 29, 1869

September 29, 1869 to July 22, 1869

July 22, 1869 to October 15, 1872

October 15, 1872 to October 26, 1874 (retired)

November 30 1875 to December 31, 1889

December 31, 1889 and died on August 13, 1906
The addition of the red is a Post-war addition. The jacket has some moth holes, but nothing major. The inside has the padding expected in the Civil War uniform. The sword is a Civil War version of the M1852 Naval Officers' sword retailed by Horstmann. The retailer marking is faint from years of wear, but reads "W. H. Horstmann & Sons Philidelphia," which is the Civil War period markings. The scabbard is complete and has Howard D. Potts name and USN on both sides of the throat piece. The patina is even and all original, and the hilt is tight with 100% original wire and shark-skin grip. The Civil War period Naval Belt's leather matched the scabbard, and the buckle is the two-piece version. The commission paper has been professional framed. The ink is faded, but readable. The post Civil War belt has one remaining hanger strap. Also included is a war relic. I do not know what it is, but suspect it is from one of the ships on which Potts served. Included is a binder complete with historical information of Potts' military service, with his complete pension record. I found a report he drafted about damage to the USS Tioga during the fight to capture the Confederate steamer Herald, in which a Confederate shot damaged his ships machinery.This is a great Naval group with an appraised value of $8000.00. Shipping will be $45.00 because two boxes will be required. $4150.00
U471. PRESENTATION HORSTMANN CAVALRY OFFICERS' SABER - QUARTERMASTER, 2ND N.H. VOL. INFANTRY REGIMENT: When I acquired this saber, historical research had not yet been done; however, I have since obtained the complete military history and find it very interesting. The presentation reads: "resented to Quarter Master James A. Cook by the Officers of the 2nd Reg N.H.V. Dec 15th 1861"
The saber isa high-grade Cavalry Officers saber retailed by Horstmann & SonsPhiladelphia. The hilt has a plan guard with high grade shark-skin grip andtriple-strand dragoon wiring. The red felt blade washer holds the 30 1/2 inch blade tight, and the blade is etched with the Horstmann mark, US, eagle, and E Pluribus Unum. The scabbard is German silver with brass fittings and all retain much original gold wash. The saber and scabbard are in great condition!
When peopleread and study the Civil War, they do not often think about all thetroops and officers who are behind the front line, but these soldiers had a vital role in winning the war. James A. Cook was one of those officers who would be on the battle field with his regiment, and would be mention by name for his service during the Battle of Gettysburg. James A. Cook enlisted on 6/18/1861 at the age of 47 as a Commissary Sergeant. He would promote to Lieutenant and mustered into Field & Staff NH 2nd Infantry on 7/2/1861. He would be the Quartermaster for the 2nd NH Regiment at the following engagements: Bull Run, Siege of Yorktown, Williamsburg, Fair Oaks skirmish, Oak Grove, Peach Orchard, Glendale, Marvern Hill, Kettle Run, 2nd Bull Run, Chantilly, Fredericksburg, and with the 1st Brigade, Second Division, Third Corps during the battle of Gettysburg. During Gettysburg, Brig. Gen Joseph B. Carr was commanding the 1st Brigade. In has report on Gettysburg, he writes that Lieut. James A. Cook, acting commissary of subsistence, (is) entitled to great credit for the promptness and efficiency displayed in the execution of the duties to (his) respective department. On 8/12/1863 he was promoted to Captain and commissioned in to the US Volunteers Commissary Dept. as the Commissary of Subsistence, and he remain in the US Volunteers Commissary Department until 9/8/1864 when he was discharge for disability. That disability was as a result of a fall that occurred while in camp January 1863 near Falmouth Virginia, which injured his spine.
In 2008, the CDV and Kepi for James A. Cook came up for auction. It would be nice to be able to locate and reunite them with the saber. Included with the saber is a binder and folder with military records and historical information pertaining to Captain James A. Cook's service and unit.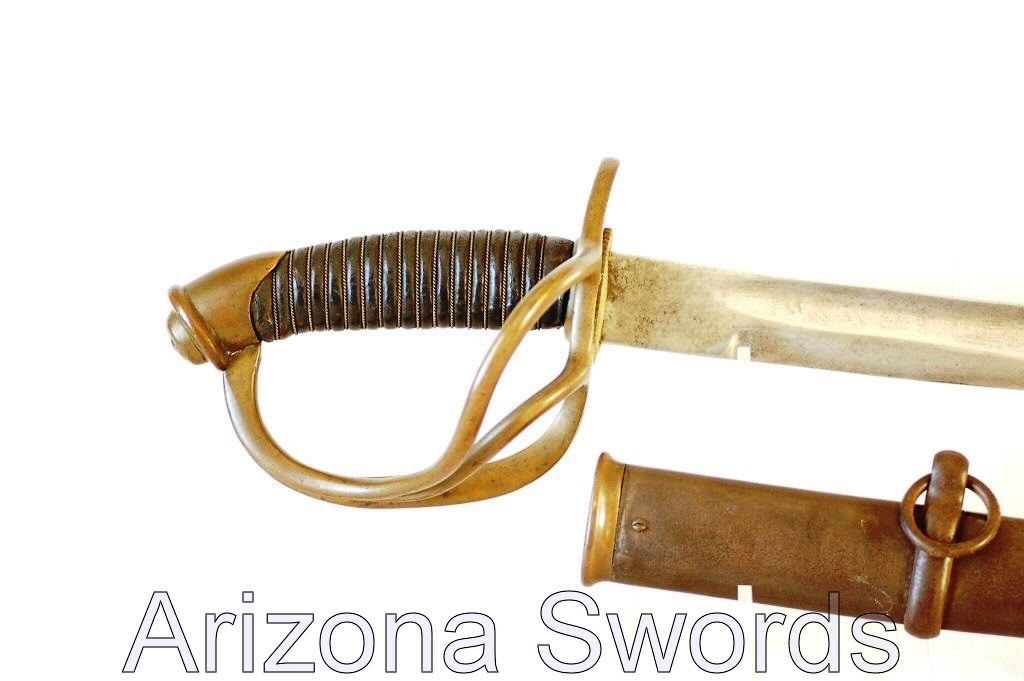 U472. ROBY - M1850 FOOT OFFICERS' SWORD: This is a Roby Foot Officers' sword with the original maker marked scabbard. The hilt is tight with 100% original grip and double strand wire; however, there are a few thin spots. The brass hilt and scabbard mounts have matching patina. The original blade washer holds the blade tight, and the blade is Roby maker marked and has great Roby frosted etching. There are a few small nicks towards the top 1/3 of the blade, but no pitting. The Roby marked scabbard retains all original months and screws, and the leather has 90% original finish with some minor crasing and wear above the drag. $1800.00
U474. EMERSON & SILVER PRESENTATION-GRADE PHOENIX GUARD STAFF & FIELD SWORD, TOMES SON & MELVAIN RETAIL MARKED: This is a rare Staff & Field sword! It is a silver hilt, Rising Phoenix guard Staff & Field sword made by Emerson & Silver and retailed by Tomes Son & Melvain New York. The German silver grip retains 100% original triple-wire and has great patina. The hilt is tight with even patina, and shows a Phoenix rising from flames towards the "U. S." in the guard. The blade is held tight by the original red leather blade-washer; is maker marked "W. Clauberg, Solingen," with the retailer mark for "Tomes Son & Melvain New York." The blade is bright with traces of original frosting and a spread eagle with radiating rays, and "U.S." and military motif. There are a few minor nicks showing evidence it was carried and used. On the top of the spine of the blade near the hilt is the number "31" and the "IRON PROOF" mark. The scabbard is 100% original and extremely rare and in amazing condition! It is leather covered steel with brass mounts. This was a scabbard designed introduced during the Civil War and in most cases, the leather is in poor condition and often is missing or flacking away. This retains 100% of the original leather and with the exception of the crazing near the top month, is in amazing condition. The brass months have nice chase work and the top mount has "U.S." on the front and a presentation shield on the reverse, on the drag is stamped the number "31'' which matched the number on the blade. I have handled one other example of a Rising Phoenix hilt, but it had a standard ray-skin grip and leather scabbard. This sword surfaced several years ago and I purchased it then, and it has been in a private collection until I recently reacquired it. I have not seen another example exactly like this. Here is your chance to add a nice rare investment grade sword to your collection! $3798.00
U486. P.S. JUSTICE CAVALRY OFFICER'S SABER: This is a marked version of the P.S. Justice Cavalry Officer's saber. It is a rare find and not often seen; however, when found they often show evidence of being carried during the Civil War. This saber displays great original patina on the hilt and scabbard, and retains much of the original gold wash. The hilt and grip are tight with no movement and 100% original sharkskin grip and original wire. The original leather blade washer is present, and the blade is in nice shape showing the expected wear and maker marked P.S. JUSTICE. The scabbard retains all the original brass mounts, throat piece, and drag (missing its screw), and displays the expected wear and dings; and there is a still trace of gold wash on all mounts. This is one of the rarest Civil War officer saber and condition wise, is one of the best I have seen. $1375.00
U505. HORSTMANN PATTERN 1822 OFFICER SABER: This is German made saber and a date to the early 1850's, and were used through the Civil War. A number of these sabers are identified with the Philadelphia First City Troop, but more are shown in period images of Civil War officers. The hilt on this one is very large, with a leather grip and single strand wire. The original blade washer holds the blade tight, and you can see fancy etching and the Horstmann mark on the blade. When I discovered this saber, the blade was covered in old oil. After I wiped all the oil off I found the blade was bright. The scabbard is of a heavy design, which I believe is a period replacement. This is a nice sword at a reasonable price. $825.00
U506. T-MARKED (TOMES) OFFICER'S SABER: This is another T-marked Officer's saber, which is believed to have been made by Tomes, Son & Melvain as documented in John H. Thillmann's book Civil War Cavalry & Artillery Sabers. This saber is in outstanding condition with 100% original leather grip and triple strand wire, which is tight. The ornate hilt is hand-chased and engraved with deep foliate, pommel cap brim is chased, branched are chased, and the guillon has a fine foliate design. Compare this to the other one I just sold U487 and you will see the difference in the design. Since these were hand chased, no to will be 100% identical. The T- marked blade is in great condition with no rust or dent. The plain steel scabbard developed a nice rich brown patina. All the T-Marked Officers sabers are early Civil War period pieces.$1600.00
U510. DAHLGREN BOWIE BAYONET KNIFE: This is a Dahlgren Bowie bayonet knife. Prior to the Civil War, Commander John Dahlgren developed a Bowie-style fighting knife, but in order to get it funded he marketed it as a bayonet for the Navy rifle musket (Plymouth rifle). It is rare to find one that will fit a Plymouth rifle because they had to be tooled to fit, but this one actually fits the rifle I have listed for sale F120. This knife is all original with its original scabbard. The patina on the brass is even and never cleaned. The lug-nut locking spring is operational, the wood grip is complete, and the blade has a sharp point and never sharpened. The blade is maker marked Ames, Navy inspected and dated 1863. The inspection markings are very rare because you will see a Navy anchor on both the blade and the back-end of the knife, which indicated it was not only inspected but issued. This makes it a scarce example! The scabbard is complete with no breaks or repairs, and retains all complete mounts. As mentioned, it fits the Plymouth Rifle I have for sale, but is being sold separately. If both are purchased, I will give a package deal. The Bowie is priced: $2800.00
U528.M1850 FOOT OFFICERS SWORD, W. G. MINTZER, PHILADELPHIA: This is M1850 Foot Officers sword from a rare and seldom seen Philadelphia dealer, W. G. Mintzer. This company fabricated swords from parts purchased from other companies to include both US and overseas. This tilt is the standard M1850 Foot Officers design with 100% original shark-skin grip with double-strand wire, and is tight. It has an untouched original muster-brown patina. The original red felt blade washer holds the 32 inch blade tight. The blades original acid etching retains much frosting with a large US on one side and large vertical eagle on the other site. At the base of the blade it is etched MINTZER PHILAD. Also, of note is the fact that the blade is exceptional wide, 1 2/16 at the base and still 1 inch wide 3 ½ from the. The original scabbard was lost on a battle field a long time ago, and as a result the price is for the sword alone. $550.00
U530.AMES M1850 FOOT OFFICER SWORD – RARE VARIANT: This Ames M1850 Foot Officer sword is a very rare variant in that it was never Ames marked and never etched. No one know for sure why these rare example exist, but it has been surmised that these sword were either sold blank to retailers for resale or these were sold to Confederate states. Either way, they are rare and not often encountered. When you examine the hilt you can see it conforms to all others made by Ames. The pommel cap design; the brazed connecting joint in the hand guard; the grip material and side seam, and the configurationof the double-strand wire, which has a period lead repair to it.The scabbard is pure Ames in its structure with a bottom seam. Both top mounts retain large original screws, but the screw for the bottom drag is missing. There are no breaks or bends in the scabbard, but there is minor crazing. Though rare, this sword does not break the bank and is very affordable, and will add to any collection. PRICE $950.00
U538. PRESENTATION GRADE - M1860 CAVALRY OFFICER'S SABER: This is a high quality Presentation Grade M1860 Cavalry Officer's Saber. The saber has a German silver grip, ornate hilt and pommel cap, with a German silver scabbard made by Clauberg, and is in outstanding condition. The Clauberg marked blade has a nice grayish patina, which gives the etching of the Eagle and US a striking look. The blade has never been sharpened and is nick and ding free. The scabbard has high-grade mounts with ornate chase work, and retrains all original screws. Between the ring mounts is etched the presentation:
Presented to
FirstLieut J. L. Halstead
Company C Washington Greys
by his
personal friends as a token of their
REGARD
May18, 1868
Lt.Joshua L. Halstead was a member of a National Guard unit from New York City knownas the Washington Greys. During the Civil War many of the National Guard units were attached to state units formed for the war. Records show that members of the Washington Greys were attached to the 47th NY Infantry, the 8th Regiment NY, the 4th Independent Battery, and the 3rd Cavalry Regiment, NY. Currently, I have been unable to find Lt. Halstead in the Civil War data base to place him with any of these units; however, that is not unusual for members of National Guard units from the Civil War. Further research at the New York State Archives for the state records is needed.
I was able to find him listed in the post-war records of the Annual Report of the NYAdjutant General's Office for 1869 that list Joshua L. Halstead as a LT. in Co. C of the Washington Grey's Cavalry. Normally a sword of this caliber would be listed around $5500.00, but with the post-war inscriptionI have priced it accordingly. This is a great sword for any collector, especially one interested in the military history of New York and New York City. $3600.00
U553. NON-REGULATION FOOT OFFICER SWORD – RARE: Every so often, a rare unknown variant of a sword will surface like this. It is a Non-regulation Foot Officer Sword with a center medallion eagle design not common to a Union sword. In fact, this medallion style is more common on a Confederate like sword, and as such, this sword was most likely made by a maker who provided swords to the South. Additionally, the scabbard is a higher grade with brass fittings not normal to the Non-Regulation Foot Officer sword. The scabbard is dent and ding free, the hilt is tight with 100% original shark-skin grip and triple-strand wire, thought the etching is a little week, but readable. If the blade were brighter and closer to mint condition the sword would easily be $2000.00 plus. If you have the Confederate version of this sword it would look great beside this one; however, if that Confederate sword is missing its scabbard this is what it should be.
U560. M1850 STAFF & FIELD SWORD: This unmarked M1850 Staff & Field sword definitely saw action and shows the expected wear one would hope to see for a Civil War sword. The brass hilt has a nice even patina and looks great with the large U S in its center. The grip is 100% original shark-skin and retains the original double strand brass wire. There is a little movement in the hilt because the original blade washer is gone. The 33 inch blade displays nice original etched that is a little rubbed-down in spots, but has never been cleaned or polished and is free of nicks or dents. It fact, the last 8 inches of the blade looks great. The scabbard shows its use in combat with its share of dings, dents, and cracks; however, it did its job of protecting the blade. All brass mounts are original and only the screw for the drag is missing. If you are looking for a mint sword, this is not it. But if you want one that shows character and saw the elephant, this is it. $995.00
U561. M1821 NON-REGULATION FRENCH INFANTRY NCO SWORD – VERMONT PRESENTATION: This is a model 1821 Non-Regulation French Infantry NCO sword presented to a Sergeant Major of the 3rd Vermont Infantry Regiment. This sword is in mint condition with 100% original shark-skin grip and single twisted brass wire. It is the basic pattern as the officer's model, but with a slightly shorter blade, and scabbard designed with a frog stud for carry by a SNCO. The top throat mount has the presentation that reads:
"PRESENTED TO SERGT. MAJOR G.P. BROWN 3rd Vt Inf Nov 14, 1863."
George F. Brown enlisted 6/1/1861 as a Private andmustered into "G" Co 3rd Vt Infantry. He was promoted to SergeantMajor 11/14/1863, 1st Lieutenant 6/26/1864 and Quartermaster 10/18/1864. He was a Sergeant Major for just over 7 months, which accounts for the sword being in such mint condition. Muster sheets show that he was a clerk prior to being promoted, and as a Sergeant Major served in the Quartermaster corps. As a line officer, it looks as if he served in the infantry prior to being elevated to Quartermaster.
The 3rd Vermont Infantry was heavy engaged inmany of the major battles of the Civil War, and no doubt Brown was actively involved.
ENGAGEMENTS
| | | | |
| --- | --- | --- | --- |
| Battle of Lewinsville | September 11, 1861 | Battle of Rappahannock Station | November 7, 1863 |
| Battle at Lee's Mills | April 16, 1862 | Battle of the Wilderness | May 5–10, 1864 |
| Battle of Williamsburg | May 5, 1862 | Battle of Spotsylvania | May 10-18, 1864 |
| Battle of Garnett's & Golding's Farm | June 26, 1862 | Battle of Cold Harbor | June 1-12, 1864 |
| Battle of Savage's Station | June 29, 1862 | Battle of Petersburg | June 18, 1864 |
| Battle of White Oak Swamp | June 30, 1862 | Battle of Reams' Station | June 29, 1864 |
| Battle of Crampton's Gap | September 14, 1862 | Fort Stevens (Washington, D.C.) | July 11, 1864 |
| Battle of Antietam | September 17, 1862 | Battle of Charlestown | August 21, 1864 |
| Battle of Fredericksburg | December 13, 1862 | Battle of Opequon (Gilbert's Ford) | September 13, 1864 |
| Battle of Marye's Heights | May 3, 1863 | Battle of Winchester (Opequon) | September 19, 1864 |
| Battle of Salem Church | May 4, 1863 | Battle of Fisher's Hill | September 21-22, 1864 |
| Battle of Fredericksburg | June 5, 1863 | Battle of Cedar Creek | October 19, 1864 |
| Battle of Gettysburg | July 3, 1863 | Battle of Petersburg | March 25, 1865 |
| Battle of Funkstown | July 10, 1863 | Battle of Petersburg | April 2, 1865 |
Here is a chance to acquire a mint condition presentation sword to a Sergeant Major of the 3rd Vermont Infantry, very rare. $2950.00
U564. M1821 NON-REGULATION FRENCH INFANTRY OFFICERS SWORD: WOW, what an amazing blade! This is a M1821 Non-Regulation French Infantry Offricers sword, which was imported into the United State and where carried by Infantry and Artillery officers before and during the Civil War. Often you will find these unetched and if etched in well-used condition. This one is in amazing condition with an etched blade that is perfect in all aspects. The hilt has a nice patina, and with the exception of a small piece of leather missing, the grip is perfect. The metal scabbard is dent free. No maker or retailer marks. Several dealers valued the sword at $2300-$2500, but I am listing it below their recommendation. $1600.00
U566. UNUSUAL STYLE IMPORT NON-REGULATION U.S. CAVALRY OFFICER: This saber is likely made in Solingen for the American Civil War and is considered a Non-Regulation pattern, and is a style seldom encountered. It is a smooth bird's head shape pommel with an integral back strap. The grip is sharkskin, triple copper wire wrap with the center strand being dragoon twist. The knuckle bow has no slot for a saber knot. There are two cavalry style branches also undecorated. There are two shield shape langets and a flat disk quillon. The blade has the flat spins of the 1840 pattern. The ricasso is short with no markings. The 12.5 inch etched panel is beautifully done with scroll work and an American Eagle under stars and an E. Pluribus Unum ribbon. The reverse has a stand of arms in place of the Eagle. The scabbard body is German Silver. The mounts appear to be silver with heavy gilt. The top mount is a long, 4.5 inch throat with a banded carry ring with line chased designs. The center mount matches, but smaller in size and the drag has the same chase-work of a line design around the blade and at the top. $1995.00
U569. EMERSON & SILVER M1850 FOOT OFFICERS SWORD: This is an Emerson & Silver M1850 Foot officers' sword. The hilt is tight with generous amounts of original gold-wash, original shark-skin grip with triple strain wire, and frosty mint condition blade held tight with the original white-buff leather washer. The etching is truly beautiful, to include the Emerson & Silver marking. The steel scabbard has developed a nice even brown patina, and ring mounts are serial number stamped 25, but the drag is marked 52 in error, kind of neat in a way. $2400.00
U570. TIFFANY & CO BASIC MODEL 1850 STAFF & FIELD SWORD: This is a basic model 1850 Staff & Field sword by Tiffany & Co. New York. The hilt design is well attributed to Tiffany and has been seen on the basic model and other embellished swords they produced. All the brass on this sword and scabbard has developed a deep rich coppery-brown patina, and is untouched. The drag show wear indicating the sword was carried, but the blade was well preserved. It is Tiffany marked, but is stamped with the keystone symbol of Emerson & Silver, and has frosty etching with a little oxidation neat the tip. The grip retains 100% original shark-skin material and wire. The Tiffany name today is associated with high-end quality items, and it was the same and maybe more so in the 1800's. $2300.00
U573.M1850 STAFF & FIELD IDENTIFIED TO AN OFFICER OF THE 18TH INFANTRY COLORED TROOPS: This is a M1850 Staff & Field sword, which belonged to Captain Charles L. C. Cass of the 18th infantry, colored troops. The sword is a standard import version with the US basket hilt. The brass has a rich mustard colored patina and the grip is 100% original shark-skin with triple strand wire and it tight. The original white buff leather washer holds the 32 inch blade tight. The blade is maker marked Schnitzler & Kirschbaum Solingen and is fully etched. The blade has a dark gray-tone patina, the etching is deep and the tip has a strong point. The metal scabbard has a great gray-brown patina with all original mounts. On the reverse side of the top mount is etched "C.L.C. Cass" "Capt USV."
In December 1863 Charles Cass applied for a commission intothe 6th regiment Corps d' Afriqua while at Port Hudson, LA and received a commissionas a Second Lieutenant. He would be assigned to the 83rd infantry, colored troops and eventually the 18th infantry, color troops as a Company Commander. He would lead his men in the Battle of Nashville, and would sustain an accidental gunshot to the hand while in the field. Included with the sword will be a complete copy of his military record with other historical information. It is not often you find a sword attributed to an officer who lead colored troops during the Civil War. $3200.00
*********************************************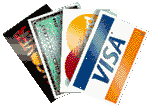 Credit Cards accepted for all purchases!

Please confirm availability
Contact Number: (602) 245-4721
© 2004 Arizona Swords azswords.com. All rights reserved in all media