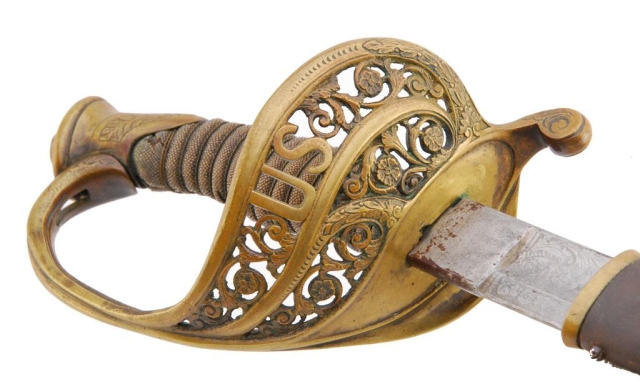 ARIZONA SWORDS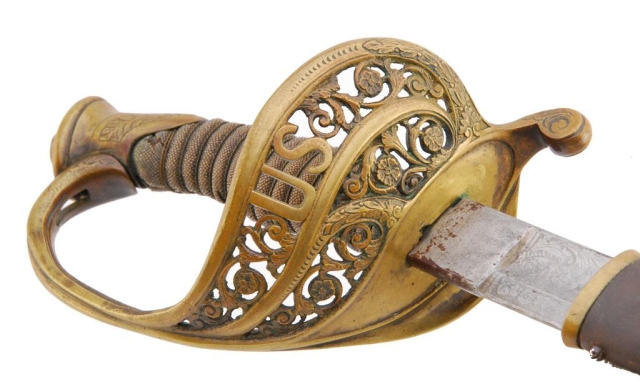 New Items
CLICK BUTTONS BELOW TO SEE OTHER AVAILABLE ITEMS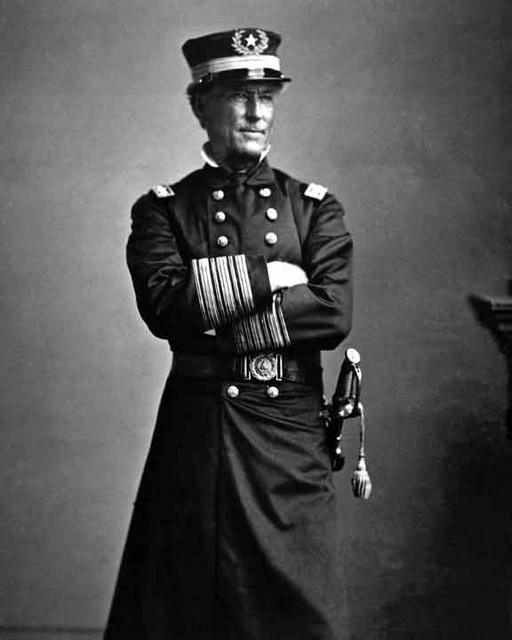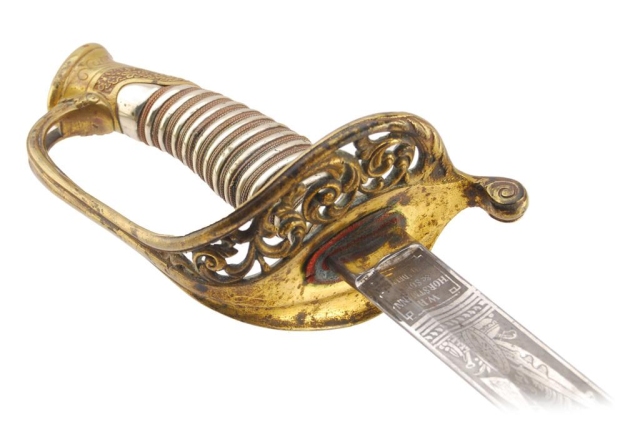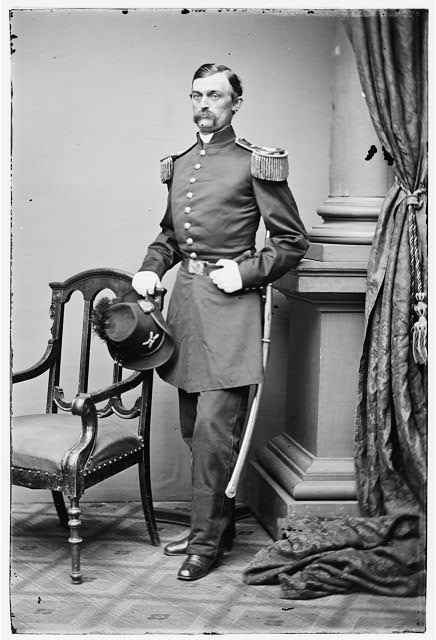 602-245-4721 or Click
CLICK IMAGE TO SEE MORE PHOTOS
C224. UNIQUE BONE-HANDLE BOWIE KNIFE: This is a unique Bone-handle bowie knife with an unusual shaped blade. In many ways, it conforms to a Confederate made knife, and some believe it to be a Confederate Naval Bowie. It is 18 inches long with a 5 inch bone handle, thin brass guard, and a 13 inch curved blade made from a large file. The bone-handle has a great gold-brown patina, and a lead cap held in place with four pins. The thin brass guard is well made and also has great original patina. The file marks can be seen on the top and sides of the blade from end to end and leave no question about it being a file. This is a well-made bowie knife, which sings Dixie. I got this at a great price and believe $1300.00 is its top value, but it is listed at a reduced price. $975.00
U574. EMERSON & SILVER NCO SWORD: Sometimes I come across something that is neat and unique that I have to buy it. This is a standard Emerson & Silver M1840 NCO sword complete with the original scabbard; however, it never has a hilt put on it. You can see the original tang, which is 7 1/2 inches long. This is what the sword looks like before the brass grip and hilt are added. How this one got by without being finished is unknown. The blade is dated 1863 and inspected and Emerson & Silver marked, and the metal scabbard is complete with both mounts and inspection marks on the drag. This is cool!!, and only priced at what the scabbard cost. $275.00
F153. CONFEDERATE SINCLAIR, HAMILTON & COMPANY: During the Civil War a large proportionate of 1853 Enfield Rifle Muskets were supplied by the Sinclair, Hamilton & Company, and they may have received as many as five contracts from the Confederacy. Sinclair, Hamilton & Company acquired their arms through five furnishers: EP Bond, James Kerr, Parker, Field & Co, CW James and Scott & Son. The furnishers often marked their guns with a large single letter on the upper comb of the stock: B for Bond, a K for Kerr, and F for Parker, Field & Co, a J for James and an S for Scott & Son. These guns are found to have a Control Number on the butt plate, ram-rod, and the matching bayonet. Often the ram-rod and bayonet are no longer with the gun, or the numbers do not match due to the fact that these were interchangeable items. Also, these early muskets are normally JS
marked.
Later version of Sinclair, Hamilton & Company provided Rifle Muskets are found with the following marks and were acquired from many additional suppliers: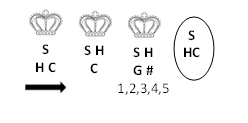 This Confederate Enfield is in near mint condition with a barrel that appears unfired. The original nipple has no damage and retains its original case coloring. The stock is amazing with only a small hair-line crack from the trigger tang running back on the right side. Near the butt plate tang is the Sinclair, Hamilton & Company

mark. This inspection mark also appears on the flat area opposite the lock. The lock is marked with the Crown, Tower, 1862 and the underside of the stock is a supplier marked JOHN MARSON. All the original bands are present as well as the sling swivels and rear site. All metal parts have the same plum-brown patina. $4000.00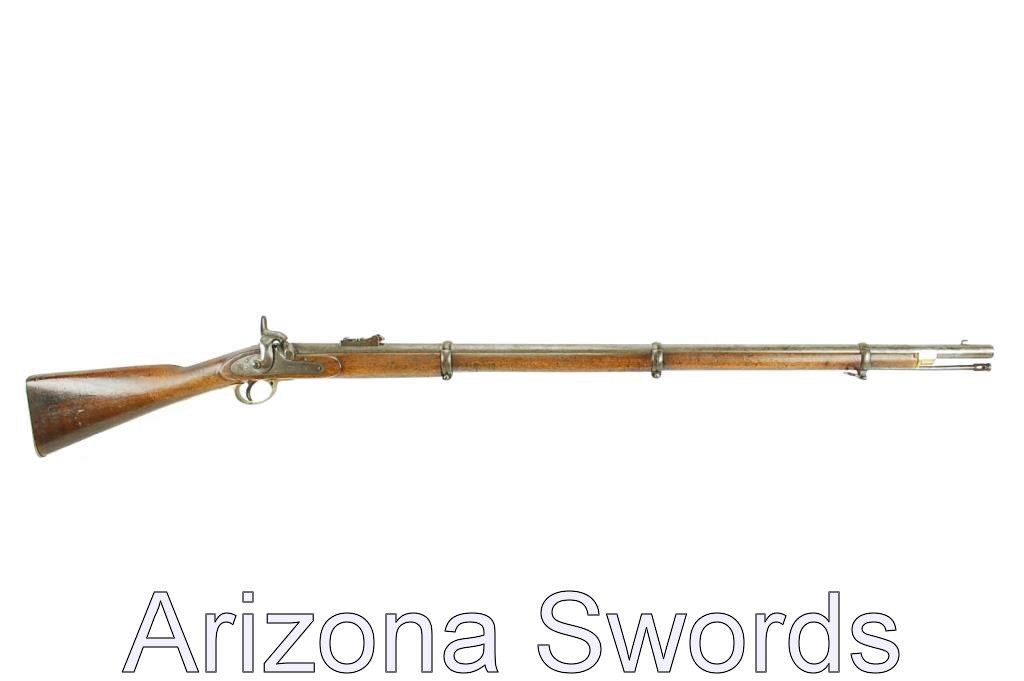 F154. CONFEDERATE ANCHOR-S MARKED ENFIELD MUSKET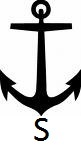 :This Confederate P53 Enfield musket is in great condition and original and completed, with the exception of missing the lower sling swivel. Also, it still has strong rifling. The musket is well marked and easily identified as Confederate because of the Anchor-S stamp by the butt plate tang . The JS-Anchor viewer stamp, which is well known on Confederate Enfields, was changed to an Anchor-S in 1863; as a result, Enfields dated 1863 will be found with either viewer's stamp while those from 1864 only have theanchor-S.
The lock plate on this musket is marked CROWN Tower 1863. The lock is maker marked PRYSE & REDMAN. They were members of the Birmingham Small Arms Trade and that mark is found on the side of the stock, as well as its underside ( Crown BSAT) and (P&R) stamps near the tang of the trigger guard. The lock works perfectly, and the rear site is complete. $2900.00
F155.

CONFEDERATE SINCLAIR, HAMILTON & CO. MARKED BARNETT ENFIELD MUSKET: During the Civil War a large proportionate of 1853 Enfield Rifle Muskets were supplied by the Sinclair, Hamilton & Company, and they may have received as many as five contracts from the Confederacy. This is a Barnett Confederate P53 Enfield musket. The gun is complete and is Confederate marked for Sinclair, Himilton & Co. by the butt-plate tang. It is a Barnett and has all original barrel parts. It is in great condition and still has rifling in the barrel. $2900.00
***********************************************************************************************************************************

****************************************************************

Credit Cards accepted for all purchases!

Please confirm availability

Contact Number: (602) 245-4721
© 2004 Arizona Swords azswords.com. All rights reserved in all media