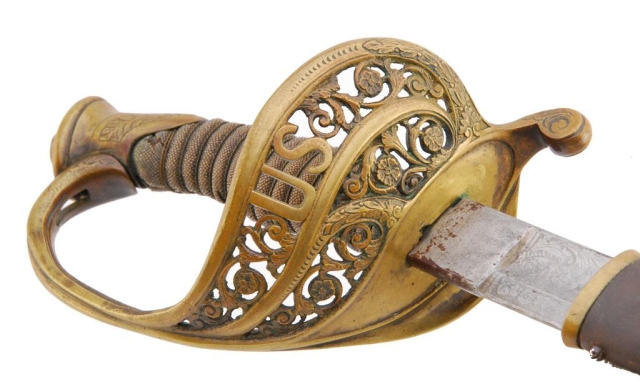 ARIZONA SWORDS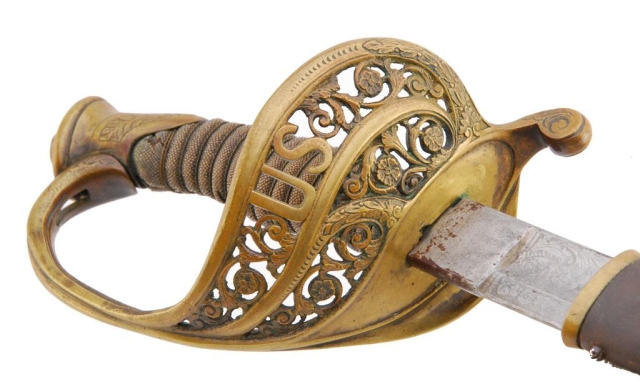 New Items
CLICK BUTTONS BELOW TO SEE OTHER AVAILABLE ITEMS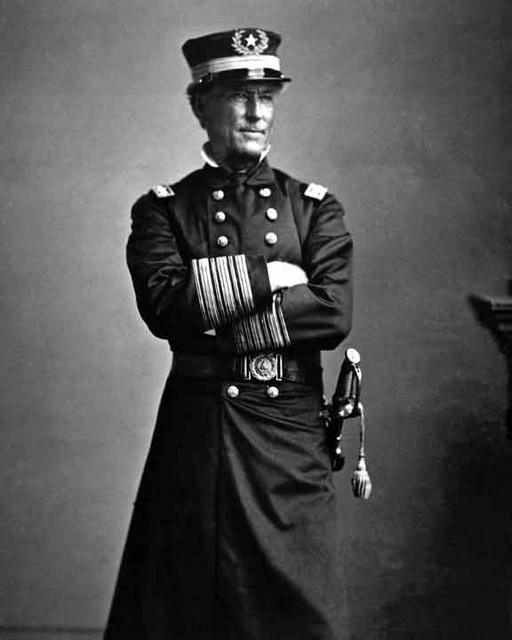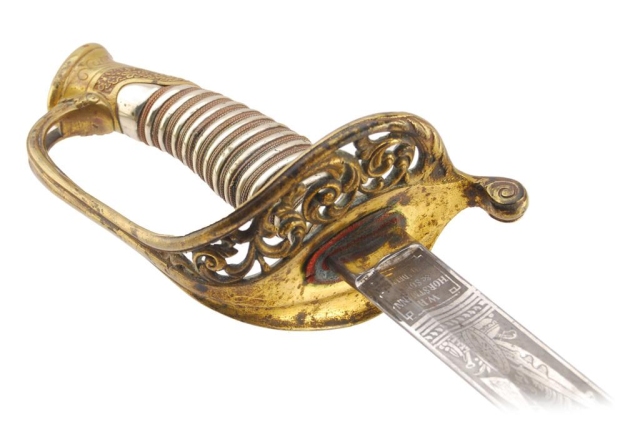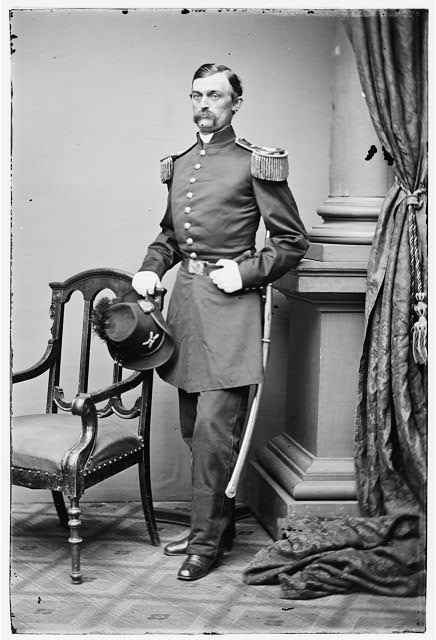 602-245-4721 or Click
CLICK IMAGE TO SEE MORE PHOTOS
*********************************************************************
F178. CONFEDERATE M1853 ENFIELD ARTILLERY CARBINE – PATTERN 1858: This is a beauty and rare find! This is the rifle many Confederate Cavalry troops wanted, and is so scarce that many collections are missing it. It is a Confederate M1853 Enfield Artillery carbine – Pattern 1858 and it has just about every Confederate trait you could hope to find. It has the blockade "836" number on the butt plate; the soldiers name and initials carves in the stock; combat damage; matching hash-marks on the barrel, lock, barrel underside, barrel retention screw, and one barrel band. The brass hardware has a beautiful deep unclean patina and the wood has the original finish and never been sanded or altered. There is some wood damages around the tang and the lock plate and it most likely was sustained in combat. On the underside of the barrel is found the maker name BARNETT as well as additional numbers and initials, but more importantly are the Roman numeral hash-marks. The lock is marked HOLLAND London. On the inside of this lock, you can see four (IIII) hash marks, which match the same on the barrel's underside to the right of the original initials I.J., and also appear on the top barrel band. On the barrel you will also see the marks (\\/II) which match those on the barrel retention screw. The sling swivels look to have been lost during the war and a hole was bored thought the stock to accommodate a lanyard.
Upon closer examination, I found Confederate hash-marks in the stocks ram-rod channel, which match those on the barrel. Also, I was able to make out the serial number on the bayonet lug 825 or 875.
A respected collector friend writes: "I think those hash marks are assembly numbers put there during manufacture. They are found on every Enfield I've ever seen. Since the lock matches with all the other hashes.. It was probably made that way .... When the maker ran out of locks and used whatever he could beg, or buy... Such as the CARR locks on LAC/KERR RMs and rifles. To get the case filled and out the door. Business before quality." It is still a rare piece..we figure less than 5000 shipped. And a very low survival rate.
These two-band rifles are scarce and this is made more rare and unique because it is identified to a soldier: Carved on the stock is the last name Goodwyn and the initials WTG. A search of all Confederate records reveals only one match: Private William T. Goodwyn from Tennessee.
A search of censes records for the state of Tennessee shows only one William T Goodwyn from the county of Davidson, and list his age as 21 in 1860, a farmer, and married. He originally enlists as a private on 12/18/1861 when mustered into "C" Co. TN 11th Cavalry Battalion. However, this was a short lived organization, and very little is known of its activities. This explains why only an initial enlistment muster sheet for Goodwyn exists. Shortly thereafter, he surfaces as a private in the "G" Co. TN 50th Infantry Battalion and would remain on this units muster rolls for the remainder of the war.
The 50th Tennessee Regiment, was organized at Fort Donelson December 25, 1861, and formed a portion of the garrison until the surrender of the fort on February 16, 1862, at which place and time, the majority being captured, were sent to Northern prison camps. Goodwyn appears on a Roll of Prisoners of War at Camp Douglas, Illinois, August 1, 1862, and was sent to Vicksburg to be exchanged September 5, 1862.
After being reorganized, the 50th Tennessee Regiment entered the heavy campaigns of Mississippi and East Louisiana and took active part in engagement on Chickasaw Bayou near Vicksburg in the latter part December, 1862. It remained at Port Hudson, Louisiana from January 7 to May 2, 1863, enduring one good shelling in this time. During this period, Goodwyn was still with "G" Company except when listed sick in Hospital at Meridian, Mississippi, May-June 1863. He returns to duty prior to the Battle of Chickamauga. The 50th Tennessee Regiment went into this battle with 190 men, came out with about 50, and Private William T. Goodwyn was wounded on 13 September, 1863. He would remain in the hospital for the remainder of his service, and died September 10, 1864 of Cholera. This is a great piece which will easily be a center piece in any collection. $9750.00
*********************************************************************
UC006. AMES M1850 FOOT OFFICER SWORD – PRESENTATION 10TH REGIMENT, COMPANY A NGSNY, ALBANY ZOUAVE CADETS: This Ames M1850 Foot Officer sword was presented to First Lieutenant D. S. Benton of the 10th Regiment, Company A, Nation Guard State of New York, Albany Zouave Cadets. Daniel S. Benton was a resident of Albany New York and a member of the Albany Zouave Cadets. On January 21, 1861 the first military officers were chosen for the unit, and Fourth Sergeant Daniel S. Benton is listed. December 29, 1860, the Albany Zouave Cadets were joined to the National Guard and attached to the Tenth Regiment as Company A. It was mustered in the United States service as Company A, 177th New York Volunteers, on November 21, 1862 and mustered out September 10, 1863. The published history for the Albany Zouave shows Daniel S. Benton with the unit from the 1860's as a Fourth Sergeant promoted to First Lieutenant in 1864, and a Colonel in 1883, and receiving a presentation sword in 1864. During his 90-day combat enlistment he was with is unit at McGilps Ferry, La., January 6, 1863; Ponchatoula, La., March 24, 1863; McGill's Ferry, La., March 24, 1863;Civique's Ferry, La., March 25, 1863; Amite River, La., May 10 and 11, 1863; Port Hudson, La., May 23 to July 8, 1863.
This sword is in great condition and retains mush original gold wash. The blade washer is missing, but the frosty blade is tight with no nicks, pitting or rust. The scabbard is strong with all original mounts and screws. I believe the brass was clean, but is taking on a nice patina. Here is a great presentation sword at a great price. $2900.00
*********************************************************************
F177. SPANISH MODEL 1860 TWO-BAND PERCUSSION RIFLE - POSSIBLE CONFEDERATE ASSOCIATION: This is an 1860 dated Spanish M1860 two-band percussion rifle that has an "YBARZABAL/EIBAR" maker marked lock plate. Generally these rifles conform in appearance to the British Enfield Two-Band Rifle. It is serial #1668 on all parts; .577 caliber with a 33" barrel with excellent, bright bore. The metal has an overall dark plum-brown patina with traces of dull gray at the muzzle and on some of the projecting edges, and on the barrel bands and other furniture. The rifle features a distinctive clamped-on rear sight, unique to Spanish military arms of the period, which has both a folding long range ladder and stepped base with extremely high 500 meter "ears". The walnut stock has a very dark military oil finish with scattered light handling marks and blemishes, heaviest on the comb of the stock and on the left side opposite the lock plate. The mechanism is tight, functions flawlessly, and the original steel ramrod is included. These are interesting weapons that are seldom seen in the United States and, while never procured for the North, may have a possible Confederate association. In a July 19, 1861 letter from Havana, Cube, W.G. Betterton and J. E. Chalard wrote to Theodore Lewis, acting confidential Confederate agent concerning a number of small arms and ammunition they were preparing to simply. This rifle is in outstanding! $2400.00
*********************************************************************
F171. "G"- MARKED 1854 LORENZ RIFLE - IDENTIFIED TO A TEXAS SOLDIER: This is a "G" Marked Lorenz Rifle, which came out of Texas and is identified to a soldier from the Texas 11th Infantry through family history. The gun was imported into the Confederacy by the state of Georgia as is evident by the "G" stamp on the side of the musket. It turns out that many of these "G" marked Lorenz rifle came through the blockade via Texas, and may explain how it ended up being issued to a Texas soldier.
The rifle is in outstanding condition. The stock is in great condition and never sanded. On the right side of the stock is the "G" mark, and a three half-cycle design to which itsmeaning is unknown to me. On the left side of the stock are the initials J. S. (most likely is the initials of the first soldier who carried this gun), and a six point star. All metal parts are original and have matching patina; the rear-site is complete and works; all sling swivels are present; and the ramrod is original. Finally, the action is tight and holds in both half and full cock, and the rifling is sharp and strong. Included is the guns original bayonet and it scabbard, both are in amazing condition and fit like a glove. With the gun is a letter from the descendant of Private Phillip K. Koonce, 11th Texas Infantry. It documents how this rifle was passed down from generation to generation and that Phillip K. Koonce owned it as his last known rifle. Records indicate the existence of a Confederate Pension and he was buried in Shelby County Texas, White Rock Cemetery. Research is complete and I obtained the Pension File for Private Phillip K.Koonce, which will be included.
Koonce initially started in a Home Guard unit then joined the 11th Texas Infantry (Roberts Regulars) around December 1863, and remained with the 11th up to its surrender and disbandment in May 1865. He was with the unit for the Red River campaign, and engagements including Wilson's Farm, Carroll's Mill, Mansfield, and Pleasant Hill in Louisiana.
Here is an outstand "G" marked Lorenz rifle identified to a Texas soldier. $5600.00
*********************************************************************
UC005. TIFFANY PRESENTATION M1850 STAFF & FIELD SWORD - "G" CO. NY 48TH VOLUNTARY INFANTRY: This is a Presentation sword from Tiffany, New York with a Collins dated blade. In the early years of the Civil War high-grade presentation swords were not yet available and as a result the early presentation sword were often the standard M1850 Foot Officer and Staff & Field sword swords, as is the case with this one. This is the basis M1850 Staff & Field sword retailed by Tiffany. The hilt is the large basket design with US in it, grip is 100% shark-skin with triple twisted wire, an 1861 dated Collins blade, with is Tiffany etched. The scabbard has a nice brown patina with brass mounts, all which have nice chase work. On the front of the top mount is a large US and on the reverse is the presentation: "Presented by the Members of Company G 48th Reg NYSV Capt A. Edmendorf January 1, 1862."
Captain Anthony Elmendorf joined the 48th New York on 26 July 1861, at Brooklyn, New York, his home of residence. He was promoted to captain on 26 August of that year. He was 20 or 21 years old at the time. He was given command of 'G' Company, which he had helped organize. Elmendorf's proficiency in drill acquired in the Thirteenth Regiment New York Militia obtained him his appointment as captain and to him was assigned the duty for a time of drilling the officers of the regiment until this duty was assumed by Colonel Perry himself. He was at Fort Pulaski, and later discharged on 19 April 1864 after submitting his resignation. I am waiting on copies of his military record and pension file for more information.
This is a great early New York state presentation sword with great eye appeal and descent history. $4700.00
*********************************************************************
C195. HAIMAN & BROTHER CAVARLY SABER: This is a Confederate cavalry saber made by Haiman & Brothers Columbus, Georgia. All of the Haiman cavalry sabers are nearly identical and easily recognizable with forging faults in the blade and a distinctive grip shape, which is tapering down from the guard to the pommel. I have seen grip material from leather, oil cloth, and pig skin with either single strand iron wire or twisted brass wire. The one shown here is black leather with double twisted brass wire. The hilt has a deep rich reddish-brown patina, and the pommel cap is marked with the number 14. The blade has never been cleaned and has an unstopped fuller and shows evidence of period sharping. The original scabbard has a brass throat, brass ring mounts with steel rings, and an iron drag that is always on the Haiman saber. Also, the scabbard seam is crude and lapped over. Under the throat you can see what looks like a period repair. This is an outstanding example of a great Confederate Georgia made saber. $4995.00
*********************************************************************
F154.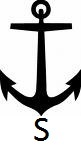 CONFEDERATE ANCHOR-S MARKED ENFIELD MUSKET: This Confederate P53 Enfield musket is in great condition, original and completed. When first photographed the lower sling swivel was off, but have since found an original replacement. The musket is well marked and easily identified as Confederate because of the Anchor-S stamp by the butt plate tang . The JS-Anchor viewer stamp, which is well known on Confederate Enfields, was changed to an Anchor-S in 1863; as a result, Enfields dated 1863 will be found with either viewer's stamp while those from 1864 only have the anchor-S.
The lock plate on this musket is marked CROWN - Tower 1863, and the inside is maker marked PRYSE & REDMAN. They were members of the Birmingham Small Arms Trade and that mark is found on the side of the stock, as well as its underside ( Crown BSAT) and (P&R) stamps near the tang of the trigger guard. The lock works perfectly, and the rear site is complete, and the rifling is strong. $2900.00
*********************************************************************
F160.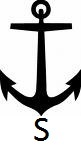 CONFEDERATE ANCHOR-S MARKED ENFIELD MUSKET: This Confederate P53 Enfield musket is in great condition, original and completed, with the exception of missing the rear site. These were brazed on and many got knocked off during the war. The musket is well marked and easily identified as Confederate because of the Anchor-S stamp by the butt plate tang . The JS-Anchor viewer stamp, which is well known on Confederate Enfields, was changed to an Anchor-S in 1863; as a result, Enfields dated 1863 will be found with either viewer's stamp while those from 1864 only have the anchor-S. The lock plate on this musket is marked CROWN - Tower 1863. The stock is marked Birmingham Small Arms Trade and mark on the side of the stock, as well as its underside ( Crown BSAT) and (P&R) stamps near the tang of the trigger guard. The lock works perfectly, and the rifling is strong. $2800.00
*********************************************************************
SLV01. CONFEDERATE CARBINE SLING SWIVELS: Here are two Confederate carbine sling swivels. Both are in great shape and are British maker marked. It is the brass roller that identifies these as Confederate, whereas the Union version is all steel. $275.00 each or the pair for $500.00
*********************************************************************
U596. HORSTMANN – M1850 STAFF & FIELD SWORD: This is a Model 1850 Staff & Field sword from Horstmann & Son Philadelphia. This sword would have been carried by officers of the rank Major to Colonel, as well as officers assigned to a command staff. This sword has great eye appeal with traced of gold wash and a nice golden brown patina. The basket hilt is tight and the grip is 100% original shark-skin with all original wire. The blade washer is gone, but the blade is still tight, and it retains its original frosting and razor sharp etching. The scabbard has a nice brown patina and retains all original brass mounts, which have traces of gold wash and nice patina. The drag is missing its retention screw and has a dent, which it does not detract from the beauty of the sword. $2200.00
*********************************************************************
F168. LONDON - COLT 1853 NAVY REVOLVER & ORIGINAL CONFEDERATE BROWN LEATHER HOLSTER: This is an original London Colt 1853 Navy Revolver in an original Confederate brown leather holster made to fit. The brown leather is in great condition with all original stitching, original brass finial, and crudely stitched belt lop with the soldiers initial JK carve in it. The leather is supple and has been well maintained. The flap is strong, but the strap for the finial has been restored. The revolver is in great condition and has all matching serial number 12671 to include the wedge and ramming leaver. The grips are also original and tight. The cylinder retains much of the original scene, and the action is tight and indexes correctly. There still remains lots of original blue as well as a nice brown patina on the exposed metal. London proof marks on the cylinder and barrel, and marked ADDRESS COL COLT LONDON on top. There is one screw not original, but that can easily be corrected. $4650.00
*********************************************************************
****************************************************************
Credit Cards accepted for all purchases!

Please confirm availability

Contact Number: (602) 245-4721
© 2004 Arizona Swords azswords.com. All rights reserved in all media