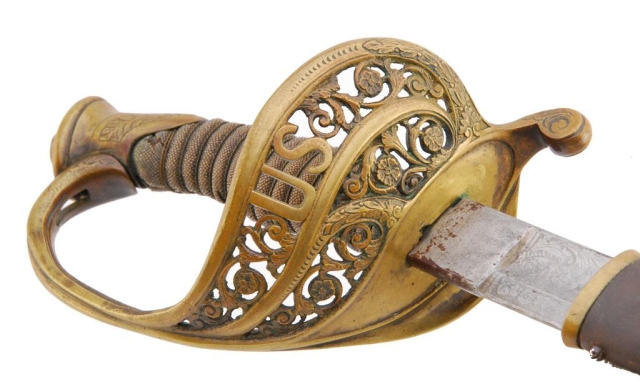 ARIZONA SWORDS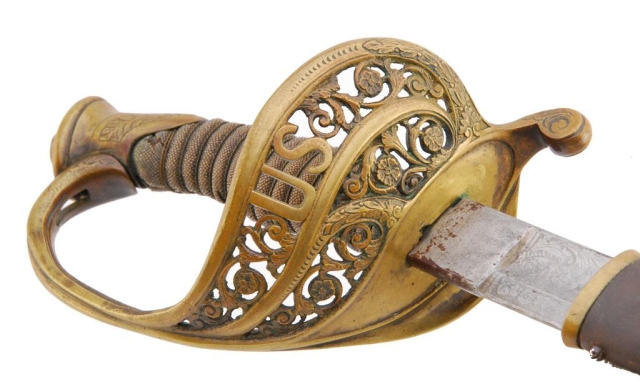 New Items
CLICK BUTTONS BELOW TO SEE MORE ITEMS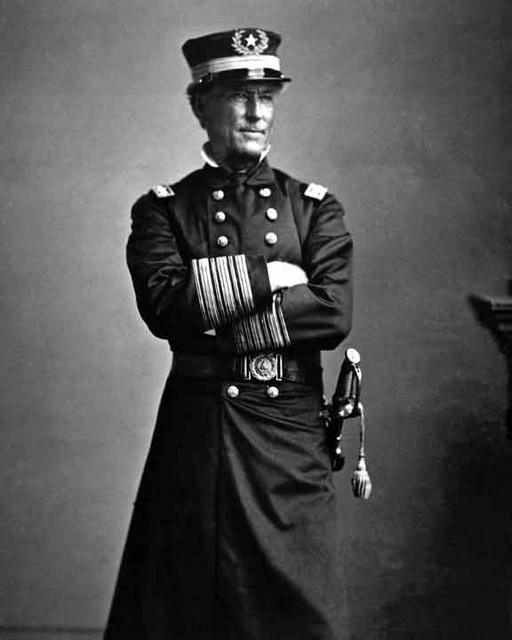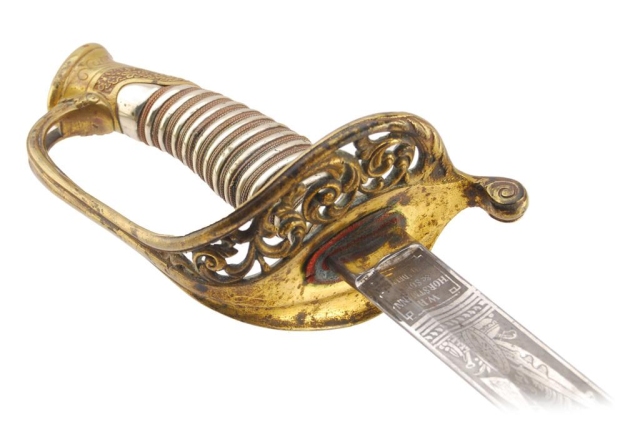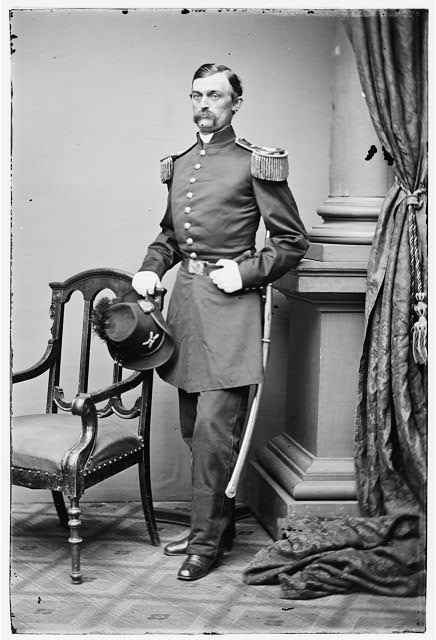 602-245-4721 or Click
CLICK IMAGE TO SEE MORE PHOTOS
U525. CLAUBERG CAVALRY OFFICERS' SABER – MODEL 1840 DEEP GUARD & KNUCKLEBOW VARIANT: This is a Clauberg cavalry officers' saber – model 1840 deep guard & knuckle bow variant as shown on pages 140 – 143 in John H. Thillmann's book {Civil War Cavalry & Artillery Sabers}. These are identified to Clauberg by the unique characteristics attributed to this maker. The hilt is tight; the grip retains 100% original triple strand wire and shark-skin grip, and the leather blade washer keeps the frosty blade tight. The blade has the brass PROVED disk, and is in mint condition with standard etching showing the Eagle and U.S. in the center panel. The brown field scabbard is also in great condition with no dings or dents and has a great deep brown patina. Overall, one of the best examples I have seen of this sword in near-mint condition. $2800.00
U387. M1840 CAVALRY OFFICERS' SABER - MINT: This is a classic M1840 Cavalry Officers' saber in mint condition. The guillion adornment has a radiating fan near the top edge of the quillion. The two branches have the expected laurel leaf cast design. The pommel cap is in the regulation Phrygian helmet pattern. The grip is shark-skin with braded wire. The entire hilt is tight, and generous amounts of original gold wash is still present. The mint-condition frosty blade is held tight by the original leather washer. The 35 " blade is adorned with an Eagle, "E PLURIBUS UNUM" cross cannons, and a large US. The scabbard is a style seen on Soligen made sabers. It is steel and believed to have been bright when made. The chased mounts are all brass including the throat, suspension rings and drag. The ring mounts have a center heavy brass band with a scribed line border and are press or friction fit. The scallop cut drag is cut the same as the bands, but secured with a screw. This is a excellent example of a M1840 Cavalry Officers' saber. $3500.00
U463. IDENTIFIED NAVAL OFFICERS' SWORD, UNIFORM, COMMISSION PAPER, BELT AND WAR RELIC: This is truly a rare find, a Civil War naval grouping identified to Howard D. Potts, Assistant Engineer U.S. Navy. It includes a swollow-tail dress uniform, naval officers' sword, commission paper, war relic, Civil War naval belt with buckle, and a post-war naval belt with buckle. Howard Potts was born in Pennsylvania on December 16, 1840. He entered service at the very outbreak of the war under "Presidents Lincoln's first call for 75,000 troops" as a private and band member in Captain McKnight's Ringgold Light Artillery from Reading Pennsylvania. His original term of service was for three months, in keeping with the belief by both sides that the conflict would be a short one. Howard Potts re-enlisted in November 16, 1861 as a Third Assistant Engineer U.S. Navy where he began a long naval career. He would later promote to Second Assistant Engineer.
Here is a list of his assigned ships and posts during his career. While at sea, he would see action against several Confederate naval vessels, and the Korean Punitive Expedition of 1871.This uniform tells of the years of service from the Civil War to the Korean Punitive Expedition of 1871. The Naval Officers' dress uniform is an original Civil War period coat with all matching buttons and Assistant Engineer rank insiginal on the sleeve.
Philadelphia Navy Yard

USS WaterWitch

Philadelphia Navy Yard

USS Tioga

Boston Navy Yard

Philadelphia Navy Yard

Boston Navy Yard

USS Pinola

Promoted to Second Assistant Engineer

Philadelphia Navy Yard

USS Dacotah

Philadelphia Navy Yard

USS Monocacy

Philadelphia Navy Yard

Naval Asylum

Naval Home

November 16 to December 2, 1861

December 2, 1861 to April 14, 1862

April 14, 1862 to May 9, 1862

May 9, 1862 to September 30, 1863

September 30, 1863 to November 27, 1863

November 27, 1863 to January 6, 1864

January 6, 1864 to March 21, 1864

March 21, 1864 to July 15, 1865

Promoted to Second Assistant Engineer

July 15, 1865 to November 24, 1865

November 24, 1865 to September 29, 1869

September 29, 1869 to July 22, 1869

July 22, 1869 to October 15, 1872

October 15, 1872 to October 26, 1874 (retired)

November 30 1875 to December 31, 1889

December 31, 1889 and died on August 13, 1906
The addition of the red is a Post-war addition. The jacket has some moth holes, but nothing major. The inside has the padding expected in the Civil War uniform. The sword is a Civil War version of the M1852 Naval Officers' sword retailed by Horstmann. The retailer marking is faint from years of wear, but reads "W. H. Horstmann & Sons Philidelphia," which is the Civil War period markings. The scabbard is complete and has Howard D. Potts name and USN on both sides of the throat piece. The patina is even and all original, and the hilt is tight with 100% original wire and shark-skin grip. The Civil War period Naval Belt's leather matched the scabbard, and the buckle is the two-piece version. The commission paper has been professional framed. The ink is faded, but readable. The post Civil War belt has one remaining hanger strap. Also included is a war relic. I do not know what it is, but suspect it is from one of the ships on which Potts served. Included is a binder complete with historical information of Potts' military service, with his complete pension record. I found a report he drafted about damage to the USS Tioga during the fight to capture the Confederate steamer Herald, in which a Confederate shot damaged his ships machinery.This is a great Naval group with an appraised value of $8000.00. Shipping will be $45.00 because two boxes will be required. $4350.00
F148. SPRINGFIELD M-1863 RIFLE MUSKET: This Springfield Model 1863 Rifle musket is dated 1863 on the barrel and 1864 on the lock plate. It is in near mint condition with a brown overall patina, and no pinpricks anywhere. It has a crisped edge stock with a strong crisp cartouche. The gun appears to have never been fired, though there a 5V carved on the underside on the stock. It has a minty bright bore. What I love about this gun is that it is in outstanding condition and no one has cleaned the metal or sanded the stock. It is very difficult to fine an untouched gun in this condition! $2050.00
U561. M1821 NON-REGULATION FRENCH INFANTRY NCO SWORD – VERMONT PRESENTATION: This is a model 1821 Non-Regulation French Infantry NCO sword presented to a Sergeant Major of the 3rd Vermont Infantry Regiment. This sword is in mint condition with 100% original shark-skin grip and single twisted brass wire. It is the basic pattern as the officer's model, but with a slightly shorter blade, and scabbard designed with a frog stud for carry by a SNCO. The top throat mount has the presentation that reads:
"PRESENTED TO SERGT. MAJOR G.P. BROWN 3rd Vt Inf Nov 14, 1863."
George F. Brown enlisted 6/1/1861 as a Private and mustered into "G" Co 3rd Vt Infantry. He was promoted to Sergeant Major 11/14/1863, 1st Lieutenant 6/26/1864 and Quartermaster 10/18/1864. He was a Sergeant Major for just over 7 months, which accounts for the sword being in such mint condition. Muster sheets show that he was a clerk prior to being promoted, and as a Sergeant Major served in the Quartermaster corps. As a line officer, it looks as if he served in the infantry prior to being elevated to Quartermaster.
The 3rd Vermont Infantry was heavy engaged in many of the major battles of the Civil War, and no doubt Brown was actively involved.
ENGAGEMENTS
| | | | |
| --- | --- | --- | --- |
| Battle of Lewinsville | September 11, 1861 | Battle of Rappahannock Station | November 7, 1863 |
| Battle at Lee's Mills | April 16, 1862 | Battle of the Wilderness | May 5–10, 1864 |
| Battle of Williamsburg | May 5, 1862 | Battle of Spotsylvania | May 10-18, 1864 |
| Battle of Garnett's & Golding's Farm | June 26, 1862 | Battle of Cold Harbor | June 1-12, 1864 |
| Battle of Savage's Station | June 29, 1862 | Battle of Petersburg | June 18, 1864 |
| Battle of White Oak Swamp | June 30, 1862 | Battle of Reams' Station | June 29, 1864 |
| Battle of Crampton's Gap | September 14, 1862 | Fort Stevens (Washington, D.C.) | July 11, 1864 |
| Battle of Antietam | September 17, 1862 | Battle of Charlestown | August 21, 1864 |
| Battle of Fredericksburg | December 13, 1862 | Battle of Opequon (Gilbert's Ford) | September 13, 1864 |
| Battle of Marye's Heights | May 3, 1863 | Battle of Winchester (Opequon) | September 19, 1864 |
| Battle of Salem Church | May 4, 1863 | Battle of Fisher's Hill | September 21-22, 1864 |
| Battle of Fredericksburg | June 5, 1863 | Battle of Cedar Creek | October 19, 1864 |
| Battle of Gettysburg | July 3, 1863 | Battle of Petersburg | March 25, 1865 |
| Battle of Funkstown | July 10, 1863 | Battle of Petersburg | April 2, 1865 |
Here is a chance to acquire a mint condition presentation sword to a Sergeant Major of the 3rd Vermont Infantry, very rare. $3100.00
CCB01. CONFEDERATE CARTRIDGE BOX – 53rd VIRGINIA ID'ed: This russet colored Confederate Cartridge box is the style made in Texas, and is in amazing condition. When purchased at the Northern Virginia Relic Hunters show, several well-known authorities on Confederate collectables inspected it, and confirmed it is authentic and all original to include the inside Confederate tins. The real find, and unknown at the time, was that there was a soldiers name on the underside of the flap. It is very faint and looks to have been either done with a period pencil or pen, and is visible in good lighting. The first name and middle initials are easy to read, but the last name is difficult because some letters are partials. The name is believed to be George H Quarles of the 53rd Virginia Infantry. This conclusion was made based on the fact you can clearly see the partial name George H Qua…. and other partial letters, and a comparison with the Civil War data base, which show one clear match: George H Quarles. During my research of the muster sheets for this soldier, I found seven different spellings in the records: Quarles, Quarls, Quales, Quarrell, Quarrels, Qarles, Quarrels. Not surprising, since many soldiers were illiterate and could not write. There is some additional writing under the name, but I am unable to read it. The photos of the underside of the flap have been enhance to better show to ID'ed name.
Quarles history with the 53rd shows he was absent a lot for medical reasons, AWOL, and listed as a deserted, but he returned in March of 1865, and was wounded and captured at Five Forks and died as a POW. This may account for the outstanding condition of the cartridge box since it was most likely issued to him shortly before he was captured. Here is an ID'ed Confederate Cartridge box in amazing condition. $6750.00
C211. CONFEDERATE D-GUARD: This massive Confederate D-Guard knife is an amazing piece. At just under 21 inches long with a 15 1/2 x 2 1/2 inch blade, this knife weights 1.7 lbs. and is well balanced. The craftsman who made it was highly skilled. The blade is made from a large file and was pounded down to make a thin blade. You can still see the file markings on both sides. The grip is oak and is perfect with a great D-guard. The configuration of this knife conforms too many out of the state of Georgia. If you hold it close enough you can hear it singing Dixie. What a sweet knife! $3500.00
BK01. WAIST BELT PLATE, REGULATION 1839 PATTERN, INFANTRY ENLISTED & BELT, ca, 1863-1865: This is an unmarked standard enlisted belt plate with a brown belt. The plate has a great untouched patina. It is a die-struck rolled brass face; lead filled with brass arrow belt hooks. The belt is brown leather and very supple. $350.00
***********************************************************************************************************************************
****************************************************************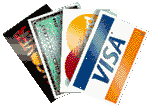 Credit Cards accepted for all purchases!

Please confirm availability
Contact Number: (602) 245-4721
© 2004 Arizona Swords azswords.com. All rights reserved in all media