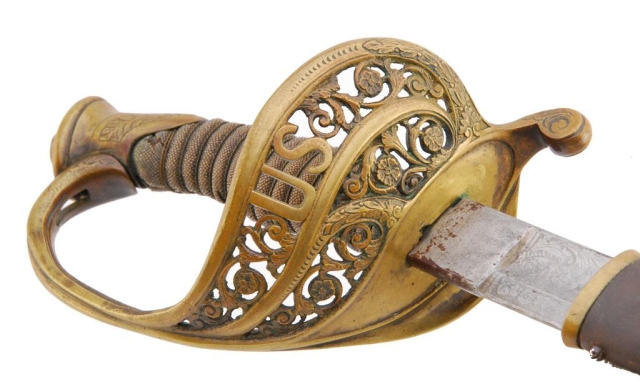 ARIZONA SWORDS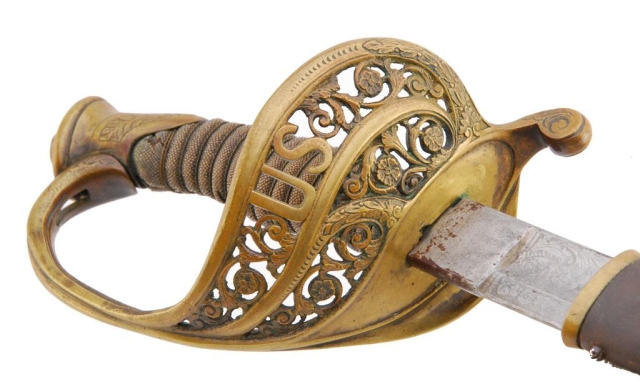 CLICK BUTTONS BELOW TO SEE OTHER AVAILABLE ITEMS
****************************************************************
New Items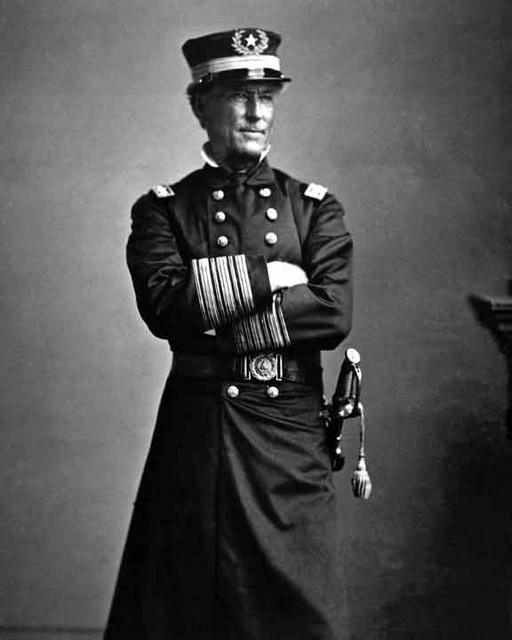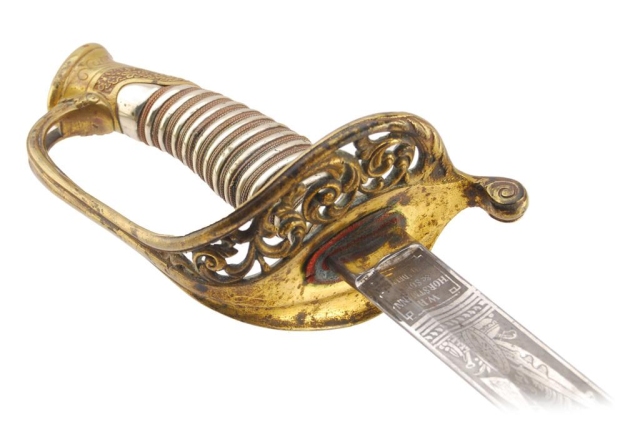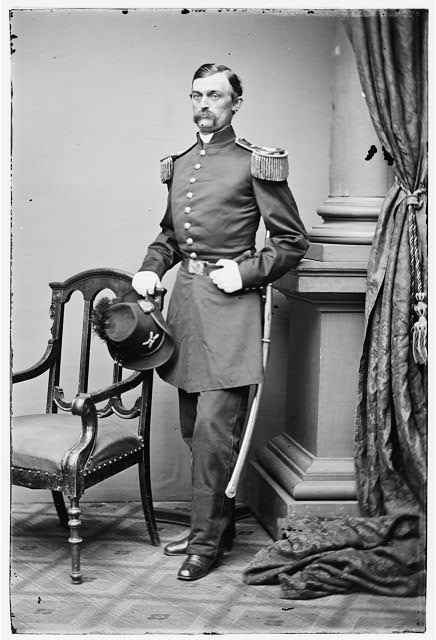 602-245-4721 or Click
CLICK IMAGE TO SEE MORE PHOTOS
*******************************************************************
U582.HIGH-GRADE PRESENTATION SWORD with ORNATE MEDALLION MOUNTS & SILVER SCABBARD: This is a high-grade Civil War period sword with a post-war presentation. The sword is most likely a Clauberg product with a PDL marked blade. It has a fancy eagle pommel hilt with US in the basket, a German silver grip, and a great pommel. The blade is PDL marked, and shows wear, but all the etching is present, as well as the leather blade washer. The scabbard is outstanding! It is silver plated steel with ornate medallion mounts and a drag with a standing soldier. On the top mount is the presentation "Presented to Capt. E. W. Holden by the Members of Company H. 10 Regt M. V. M." Massachusetts Volunteer Militia.
E. W. Holder (Ethan W. Holden) was from Westminster, MA. He Enlisted as a Private on 10/01/1861 as a member of Company F, 25th Massachusetts Infantry and was discharged for disability on 7/24/1862 at New Berne, NC. After the war he was a member of GAR Post #69 (Joseph P. Rice) in Westminster, MA as the Post Commander. He also was a member of the post-war 10th Regiment. Records show he received a pension, and muster sheets are on file, though more research is required. The hilt and scabbard are outstanding, but the blade is a little tired, and if it were better this would be a $5500 sword. $4200.00
********************************************************************************************
U674. HIGH-GRADE PRESENTATION SWORD 3 RD N.G.S.N.Y.:
This High-Grade presentation sword was given to Lieutenant Col. John H. Bunke by the members of Troop A 3d Regiment N.G.S.N.Y (National Guard State of New York) on March 19 1863.
LT COL. John H Budke was born in Germany in the year 1824 & subsequently immigrated to America in 1844. He established a successful business in New York and raised a German American militia regiment, attached to the 3rd Cavalry, for service in the Civil War. Budke & his regiment were engaged during the 1863 draft riots in New York and he is buried in Brooklyn, New York. He was active with the regiment after the war, but saw little Civil War service except during the riots.
The silver-hilt sword is a high quality presentation piece in outstanding condition with a Collins & Co 1862 marked blade with a Miller & Co, New York retailer mark. The blade is decorated with a flying eagle on a shield, large U.S., and an ornate depiction of a cavalry soldier. The hilt is tight with nice gold wash, a fancy pommel cap and a German silver grip with all original wire. The scabbard is near-mint with ornate mounts and a great presentation on the back side of the top mount. This sword once sold in auction with an 18% buyer fee bringing the total to over $5500.00. It is available for less. $4500.00
***********************************************************************************************
CN05. US MODEL 1858 SMOOTH-SIDE CANTEEN WITH ORIGINAL CHAIN, STOPPER & SLING. This is a smooth-sided model 1858 canteen complete with the original cover, chain, stopper and original sling. The cover has one small hole; otherwise it is in near-mint condition. The sling is compete, stopper cork is in great condition, chain is unbroken, with a dent on both sides. This is one of the better examples I have seen in a while. Free shipping. $365.00
***********************************************************************************************
IMG01. QUARTER-PLATE TINTYPE – TWO UNION OFFICERS DRINKING WHISKEY. This is a quarter-plate Tintype of two Union Officers with two whiskey bottles and two glasses filled with drink. Both officers have rosy cheeks and gold painted buttons and epaulets, and each glass is tinted as well. The image is house in the gold frame with original glass, but no hard case. Free Shipping. $275.00
***********************************************************************************************
IMG04. SIXTH-PLATE TINTYPE – DOUBLED ARMED INFANTRY SOLDIER. This is a sixth-plate Tintype of a doubled-armed soldier with a revolver in his belt and holding an 1853 3-band Enfield rifle. The solders has rosy cheeks, is wearing a ring on his small finger, and his uniform buttons are painted gold as well as the US on the buckle. The image is house in a full case with original un-cracked glass. Free Shipping. $380.00
***********************************************************************************************
*******************************************************************
Credit Cards accepted for all purchases!

Please confirm availability

Contact Number: (602) 245-4721
© 2004 Arizona Swords azswords.com. All rights reserved in all media